Badger baiting: Two men jailed for badger and dog fight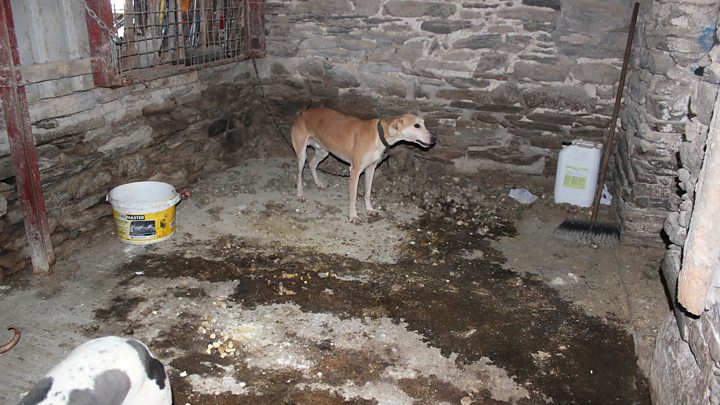 Two men have been jailed for causing unnecessary suffering to a badger by making it fight with dogs at a farm in Gwynedd.
Jordan Houlston, 24, of Llandudno, and David Thomas, 51, of Blaenau Ffestiniog, were convicted in January.
Thomas was jailed for 22 weeks and Houlston for 20 weeks.
Both men were also banned from keeping dogs for eight years at Llandudno Magistrates' Court on Monday.
Thomas must pay a total of £5,000 towards court costs while Houlston was ordered to pay £715.
A third man, Marc Morris, 26, from Blaenau Ffestiniog, was given a suspended 10-week sentence for animal welfare offences, ordered to carry out 150 hours unpaid work and pay costs of £615. He was also banned from keeping dogs for four years.
A 17-year-old who had pleaded guilty to being present at an animal fight was ordered to pay a total of £220 in costs and banned from keeping dogs for four years.
The men were filmed by the RSPCA encouraging dogs to fight a badger on land at Cwm Bowydd farm in Blaenau Ffestiniog, Gwynedd.
District Judge Gwyn Jones said: "This was a deliberate and planned venture to cause suffering to an animal.
"Fortunately, we did not see how the badger was ultimately killed but it was quite clear that the death would have been slow and, no doubt, extremely painful."
The RSPCA said it had been a "landmark investigation".
Chief inspector Ian Briggs, from the charity's special operations unit, said: "Footage of this nature is extremely rare, but lays bare the sickening nature of this cruel and gruesome activity.
"This prosecution will be a warning to anyone involved in badger baiting activity... put simply, there is no room for this disgusting activity."