30,000 sign Shell Island campsite airfield petition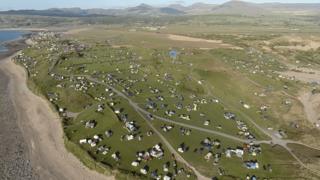 A 30,000 name petition is calling on the Welsh Government to intervene in a dispute between a popular campsite and an airfield operator.
Shell Island at Llanbedr, Gwynedd, can only be reached at high tide through the neighbouring airfield.
But the campsite owners have claimed access for emergency vehicles is under threat.
Snowdonia Aerospace, which runs the airfield, said it was working with the emergency services on access issues.
The airfield operators have ambitions for the site to become a space port.
It has leased the former Ministry of Defence (MoD) base from the Welsh Government since 2012.
Last year, the Shell Island owners were told that arrangements for emergency vehicles to use the airfield to reach the campsite were being changed.
The services must now call the airfield to arrange controlled access.
Shell Island said that led to a delay over the summer reaching a collapsed camper.
"No one is asking for uncontrolled access... this is actually access for the emergency services only when there are high tides," argued Edmund Bailey, on behalf of the campsite.
He said the petition being presented to the Welsh Assembly on Wednesday called for former access rights to be reinstated.
Snowdonia Aerospace insisted it was not preventing emergency vehicles from getting to the campsite.
But a spokesman added: "It would be flippant of us to permit uncontrolled and unfettered access over an active airfield.
"We continue to work with the emergency services direct to ensure a safe and controlled access across the airfield as and when required."
A Welsh Government official responded: "It is a matter for the directors of Shell Island to pursue discussions with Snowdonia Aerospace Centre directly, to reach an amicable arrangement and we encourage both parties to explore all the options available to seek solutions which work for all concerned."