Snowdonia's Cwm Maethlon being 'destroyed' by 4x4s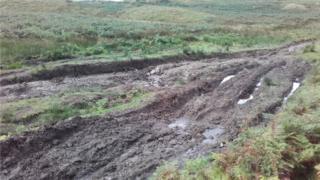 Parts of Snowdonia are being destroyed by off-road vehicles, national park bosses have said.
Snowdonia National Park Authority said it could not afford to repair substantial damage to tracks in Cwm Maethlon, near Aberdyfi, Gwynedd, which 4x4s are allowed to use.
Gwynedd council said its transportation officers would visit the site.
Drivers group North Wales' Green Lane Association (Glass) has pledged money and asked drivers to stay away.
It said Storm Doris in February 2017 damaged the ancient right of way but acknowledged there had been incidents of illegal and inappropriate use by 4x4s.
PC Dewi Evans, from North Wales Police's Rural Crime Team, said a vehicle had become stuck in an area off-roaders had permission to use and it would be removed as soon as the weather improved.
Snowdonia is one of Wales' three national parks. It was given the statutory designation in 1951 which recognises its national importance and gives it a high degree of protection.
One driver, from Southampton, was part of a group who used the route in August and said they would not have done it if he had been aware of the restrictions.
He said one of the drivers had got badly stuck and some "regrettable damage" was done to remove the truck, adding drivers would be willing to help pay for the repairs.
"I can fully understand that this will upset some people, had we known of the problem beforehand we would have avoided the route altogether," he said.
"This is a very short section on a very long, challenging and beautiful route, the vast majority of which can be driven without doing any harm.
"It would be a shame if access was denied to the whole route because of this one section but none of us wish to make the situation worse."
In a statement, the park said: "The authority finds itself in a very frustrating position.
"Consideration is not given to other users, fragile habitats and the environment of the national park are being destroyed as tracks become wider resulting in more damage.
"Repairs are too costly for the authority and landowners to implement and traffic regulation orders can result in significant costs."
It said Glass, a group that promotes sensible driving in the countryside, had agreed to contribute towards the costs of repairs to one section of the road.
The authority will also work with the group, landowners, Gwynedd council and North Wales Police to prevent the "damaging and anti-social behaviour".
Gwynedd council said: "Officers from the council's transportation service will be visiting the site to assess the condition of the route and to consider the options available to manage the flow of traffic."