Holyhead marina boat owners 'abandoned' in Storm Emma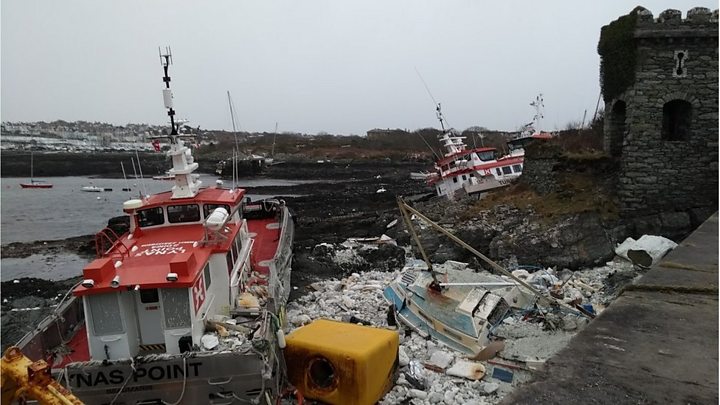 A man who lost his home when boats were destroyed by gales in Anglesey has accused authorities of doing nothing to help.
About 80 boats were damaged as Storm Emma hit Holyhead marina on Thursday.
Dave Parry, who lived there on his boat, claimed the authorities had just "left them" and people had been stealing from the wreckage.
North Wales Police said it was investigating an allegation of theft from the marina.
An Anglesey council spokesman said: "We are currently working with the Maritime and Coastguard Agency (MCA) and other partner agencies, including the marina company and port owners, Stena.
"We would urge members of the public to follow MCA advice issued over the weekend and leave the clean-up operation to the experts as there could potentially be some unsafe debris and material in the area."
Mr Parry, who has lived on his boat for about a year and is now staying with friends, said he had tried in vain to save other people's boats when the storm hit on Thursday morning.
"I was crawling around on my hands and knees trying to save other people's boats before staff turned up," he told BBC Wales' Good Morning Wales programme.
He accused Anglesey council and North Wales Police of doing nothing to help, saying there was no attempt to save the boats or to protect them.
Mr Parry also claimed diesel was leaking into the water but he had been told not to clean up the pollution.
"There's a lot of diesel, it's still pouring in. We are going to have westerly winds any day now as well, so all that is going to get blown back out into the ocean," he said.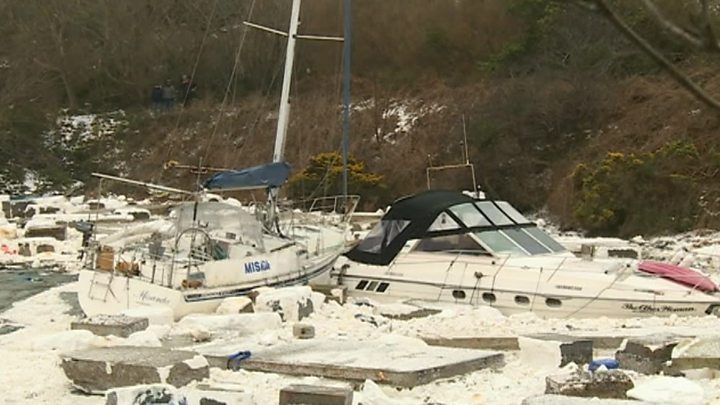 Volunteers tried to help with the clean up at the weekend and a fundraising page has been set up.
Mr Parry said: "We've got the council telling us not to do it, just to leave it, there is no support off the police or the council."
"We need a lot of people to come down to the island today, and to try and get all this polystyrene and plastic up."
Jonathan Fox, whose boat sank at the marina, also criticised the authorities' response and claimed he had not been contacted by the marina to tell him what had happened.
"The response has been woeful and confused," he said, saying that looting from the site had been "disgusting".
"The day after the event the RNLI, Holyhead Sailing Club members and members of the public started to clear away the tonnes of debris and polystyrene.
"At the same time the coastguard and police were asking people to stay away. Environmental booms were only installed yesterday afternoon which was too little too late."
North Wales Police's Supt Richie Green said anyone aware of items being stolen from the boats should call the force.
He said: "We have had a patrol plan in operation since the incident and the police's focus has been to deter any criminal activity."