Holyhead marina wreckage pollution spreads to coast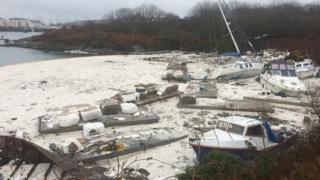 Pollution from the wreckage of boats destroyed in Storm Emma may have spread over 26 miles, the Maritime and Coastguard Agency (MCA) has said.
Holyhead Marina was hit by strong gales last week which damaged 80 boats, several of which sank.
Pollution, including polystyrene, which flooded the marina is thought to have affected miles of Anglesey's coastline.
A warning has been issued for members of the public not to pick up marine flares which may wash up on beaches.
Last week's storms caused floatation devices to split and spill the contents into the water as boats were smashed in high winds.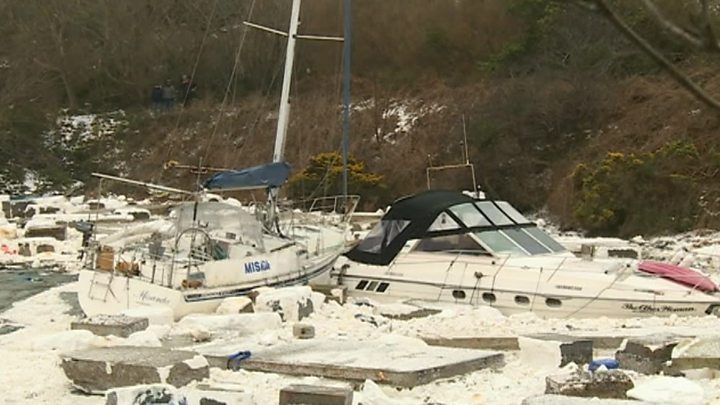 MCA duty controller Alex Smith, said about 18 miles of coastline between Holyhead and Rhosneiger and eight miles between Holyhead and Carmel Head were thought to be affected by pollution.
Booms have been laid to try and contain the spread of polystyrene and debris. The marina has also been closed to boats for safety reasons.
The MCA, Holyhead Marina, Anglesey Council, North Wales Police, Stena Line UKIE (which runs Holyhead Port) and Natural Resources Wales are involved with the clean-up operation.
It is unclear how long the process will take, the MCA said.
Mr Smith warned members of the public to leave the clean-up to the authorities and to report anything they spot which may be washed up on nearby beaches.
"It may be the case that some pyrotechnic marine flares wash up - if anyone see anything of this nature please do not pick it up or touch it - they are very dangerous if misused or fired accidently," he said.