Bangor £12m plan to expand oversubscribed primary schools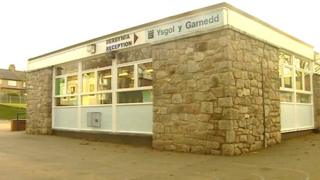 A £12.7m investment could see oversubscribed primary schools expanded in Bangor.
Under the plans by Gwynedd council, a new building would be erected at Ysgol y Garnedd, in Penrhosgarnedd, to increase its capacity to 420 while Ysgol y Faenol could also grow.
But it would mean the closures of Ysgol Coedmawr and Ysgol Glanadda.
The council's cabinet voted to launch a consultation on the plans at a meeting on Tuesday.
It comes after a review found Ysgol y Garnedd and Ysgol y Faenol schools were oversubscribed, with one governor saying pupils were packed into classes "like sardines".
New housing developments in Bangor are also expected to place greater pressure on the capacity of schools to admit pupils.
The council's report recommends constructing the new Ysgol y Garnedd building on the current Garnedd site and nearby Ysgol Friars land.
It said Ysgol Coedmawr and Ysgol Glanadda are both undersubscribed and would close, with pupils offered places at Ysgol y Garnedd.
'Difficult decision'
Alongside this, the report recommends holding a pre-consultation with the Church in Wales on extending and improving Ysgol y Faenol, giving it capacity for 315 pupils.
Gareth Thomas, the council's education cabinet member, said: "As a council, we are eager to ensure that all Gwynedd children will have access to the best possible educational resources in high-quality facilities."
Although closing schools sites "is a difficult decision", he said the plans "offer an opportunity to improve the educational provision in Bangor and gives us an opportunity to strengthen the Welsh language provision in the city".