Llandudno pier pavilion plans delayed again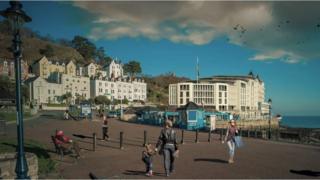 Plans to build homes where Llandudno's pier pavilion once stood have been delayed yet again.
The £18m project would see apartments as well as restaurants built on the derelict site.
Conwy council planners want to give it the go-ahead.
However, it is on hold once more while the Welsh Government decides whether to "call in" the application to the Planning Inspectorate.
Planning committee chairwoman Sue Lloyd-Williams said she was very "disappointed" at the news.
The original pavilion was destroyed by fire in 1994 and the site has remained empty.
In December, a planning application was deferred by councillors amid concerns over the project's design.
The revamped plans include 52 apartments, two restaurants and an underground car park.
Previously, the owner of Llandudno Pier said the future of the attraction would be at risk if the development happened.
On Wednesday evening, Conwy councillors were set to approve the revamp.
However, a planning meeting heard the council could not grant permission following a request by an undisclosed party to refer the scheme to the Planning Inspectorate Wales.
If the Welsh Government agrees with that submission, it could mean further delays. However, if officials disagree then the application would be back with the local authority once again.
Conwy council's planning committee documents show that it would be "minded to" approve the scheme.
The Welsh Government declined to comment.