Bala lake 'needs work to stop flooding'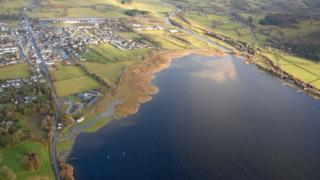 Work to ensure Wales' largest natural lake remains safe and can cope with extreme flooding is to be carried out.
Llyn Tegid - also known as Bala Lake - in Gwynedd, was inspected by Natural Resources Wales and issues were raised about the adequacy of its embankments.
Natural Resources Wales (NRW) said although there were no immediate concerns, improvements were needed.
It said it wanted to ensure the lake continued "to withstand extreme weather now and in the future".
The body, which manages Wales' environment and natural resources, said the "huge environmental value of the area and its importance to the local community, recreation and tourism" would be fully considered as work was carried out.
Matthew Jenkins, NRW project manager for Llyn Tegid, said: "We are committed to keeping communities safe from flooding.
"Over the coming months there will be surveys and ground investigations at Llyn Tegid - the first steps in helping us decide what to do.
"These are likely to be very visible and, while there will be very minor footpath diversions, these should not impact on people's access to the lake and shore."
A spokeswoman added: "At the last inspection, some points were raised over the adequacy of the embankments when dealing with very extreme flood events."
NRW said construction work was unlikely to start until 2019.
In recent years, Gwynedd has been hit by flooding after torrential rain, including last November when roads and rail lines were closed because of rising water.