Holyhead harbour polystyrene pollution 'unprecedented" in UK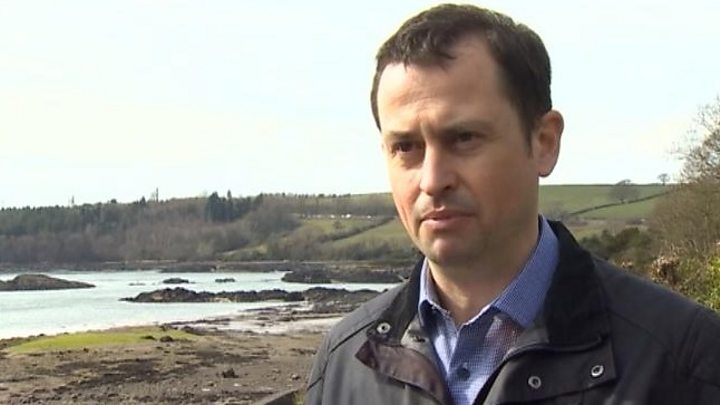 Pollution from damage to Holyhead marina is "unprecedented in the UK," according to an Anglesey councillor.
Councillor Carwyn Jones said "no external resources" had been provided and money would have been thrown at the problem "if it was in Cardiff Bay".
Polystyrene balls flooded the Anglesey harbour and spread around the coastline when flotation devices at the marina split during Storm Emma.
The Welsh Government said it had set out its position in the assembly.
Up to 80 boats at the marina were damaged or sank in high winds caused by the storm.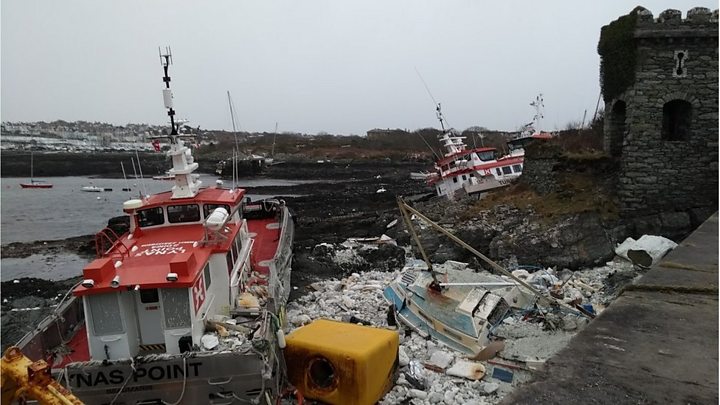 First Minister Carwyn Jones and Lesley Griffiths, minister for energy, planning and rural affairs, visited the harbour in the aftermath of the storm, but Mr Jones said the council had received no help from the Welsh Government in the clean-up effort.
"This is a disaster that's unprecedented in the UK. No other part of the UK has dealt with this polystyrene pollution that we have now," the councillor said.
"I bet your bottom dollar if this was in Cardiff Bay or in the south coast of England you'd have task response groups and money thrown at this problem.
"We're being left here to deal with it with no external resources coming along to help.
"Our coastline has been polluted - our beaches, our pride and joy - the jewel in the crown of Anglesey when it comes to tourism and no resources have come."
He said the council had written a letter to the Welsh Government asking for funding, but the authority had yet to receive a formal response.
Speaking in the Senedd on Wednesday, Ms Griffiths thanked the work of those involved in the ongoing clean-up and said: "The clean-up operation started very quickly.
"Of course there's lessons to be learned, but I don't think we could have done anything more quickly than we did."