Disabled Bangor man held in deportation centre for four months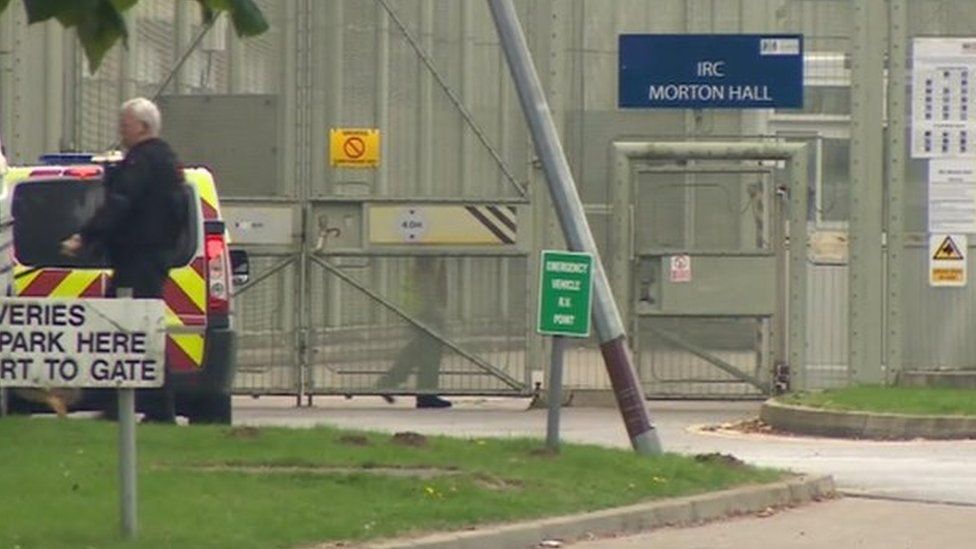 A disabled man from Gwynedd whose lawyers claim has never left the UK is being held in a deportation centre amid moves to deport him to the US.
Paul Tate, who uses a wheelchair, has been held in Lincolnshire since he was released from prison four months ago.
Officials say Mr Tate, 53, had expressed a wish to "return to the US" and was cooperating with the process.
But his lawyers say he was born in Bangor, Gwynedd, and has never been abroad.
Mr Tate has been held at Morton Hall Immigration Removal Centre in Swinderby since he was released for prison after serving a 12-month sentence for grievous bodily harm.
His lawyers say a judge refused an application for bail to leave the centre last week.
Mr Tate, who has used a wheelchair since having a stroke, is upset and his health is deteriorating due to the situation, they said.
They say they are now trying to find documents to prove Mr Tate - who was adopted as a child and changed his name and has never applied for a passport - is a British citizen.
A Home Office spokesman said: "We expect those with no basis of stay to leave voluntarily.
"Where they do not we will enforce their removal - this includes foreign criminals of whom we returned almost 6,000 last year."