Storm-hit Gwynedd secondary school still shut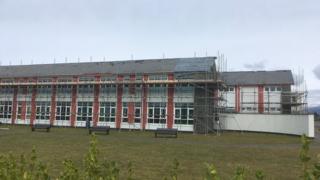 Pupils at a Gwynedd secondary school have been told their classrooms will remain closed after the Easter holidays as work to repair storm damage continues.
Students at Ysgol Ardudwy in Harlech have been taught at five different sites since Storm Emma wrecked the roof at the school in March.
Officials said work to make the area safe is taking longer than anticipated.
Staff and pupils have been told the school should now reopen on 23 April.
"From the outset, all involved have been working towards getting the pupils and staff back on the school site after the Easter holidays," a Gwynedd Council spokesman said.
"But the initial work has identified the need for different specific technical solutions, in order to erect scaffolding to access certain parts of the buildings."
The temporary arrangements that have seen pupils taught in a theatre, library, an FE college and another school will continue until the site is safe.