Welsh language row over Anglesey school closures plan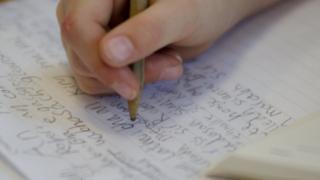 Proposals to close rural schools are being rushed through before new rules come into force that will give them more protection, a Welsh language group has claimed.
The closures of Ysgol Corn Hir, Ysgol Bodffordd and Ysgol Henblas in the Llangefni area are being considered by Anglesey council's scrutiny committee.
Cymdeithas yr Iaith said the council's plans were based on "tired" arguments.
The council said it wanted high standards and denied it was in a hurry.
A report being considered by the committee on Monday highlights the cost per pupil and a backlog of maintenance at all three schools.
It also references lower than expected standards at Ysgol Henblas and Ysgol Bodffordd.
The report recommends either building a new school to replace all three or building a school to replace Ysgol Bodffordd and Ysgol Corn Hir and maintaining Ysgol Henblas either in its current form or as a multi-site school.
The committee will consider the options and make a recommendation on the future of the schools.
However, the Welsh language group pointed to changes to the School Organisation Code that will mean rural schools will be officially designated and listed, making closures the last resort.
Authorities will have to assess the likely impact of a school's closure on children's education, the wider community and travel arrangements, and explain why closure is the "most appropriate" course of action.
A consultation closed in September 2017 and plans are currently being reviewed.
Referring to this, Cymdeithas yr Iaith made an appeal to Education Secretary Kirsty Williams.
It said: "We wish to draw your attention to the fact that education officers in Ynys Môn (Anglesey) are attempting to rush through a proposal to close the schools at Bodffordd and Henblas... before your new code comes into force.
"They are using the same tired old generic arguments which would result in the closure of practically every rural school on your list if dogmatically adhered to."
'Committed'
In response, an Anglesey council spokesman said: "We are aware of the possible changes to the School Organisation Code and act on the content.
"As part of this, community, language and equality impact assessments will be completed.
"The county council is committed to consulting on plans to ensure the best use of resources provide a sufficient number of places and to promote education of the highest standard in the Llangefni area and indeed in all parts of the island."
The Welsh Government said: "We are in the process of analysing consultation responses and expect the code to come into force in the autumn.
"In the meantime we expect local authorities to act in the spirit of the proposed changes by ensuring any case for closure is strong and that alternatives to closure are appropriately explored."