Scouts ready for South Pole expedition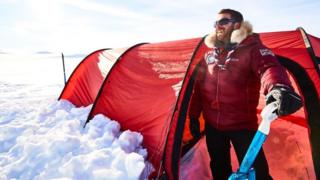 Joe Doherty can remember fervently following the story of a team of scouts reaching the summit of Everest in 2007. At the time, he was only 14 years old.
A young scout himself, Joe dreamt of following in their footsteps.
Today, aged 25, Joe is just seven months away from embarking on his own adventure. He has his sights firmly set on becoming part of the first scout-led team to ski 566 miles (910km) to the South Pole.
He will be joined by fellow scout and adventure enthusiast, Oliver Robinson, 27, from Hampshire.
"We wanted our own Everest. No scout in the world has skied to the South Pole. We picked this challenge to show people we can do this," Joe said.
Ultimately, he wants to show youngsters the achievements that can be accomplished through modern scouting and how "with a bit of grit and determination, an idea can become an exciting reality".
As learning and adventure manager for the Outward Bound Trust in Aberdovey in Gwynedd, Joe is accustomed to challenges, having trekked in Peru and led expeditions through Nepal.
But the 80-day expedition will be his toughest yet, as he will face temperatures of -45C, 80mph winds and perpetual daylight. It is a far cry from his home in Tywyn.
Their journey will begin from the Messner Start on the edge of the Antarctic plateau on 10 November.
It will be the culmination of six years of planning and preparation.
During their epic journey, the two men will man-haul sleds weighing 100kg (15st 10lb) each, which will carry all of their food and kit.
As they head south, they will be moving for eight hours, and burning up to 8,000 calories every day.
A rigorous training regime has seen the two ski across Norwegian glaciers, and drag lorry tyres over a marathon distance.
But in October, all training will stop, as Joe will need to put on around 12kg before he can set off. He expects to lose around 25kg during the trip.
The pair will be fuelled by high-calorie foods as they go, eating lots of chocolate, cheese and chorizo. But not nuts.
"Nuts will freeze too hard in the cold temperatures and will crack your teeth," said Joe.
They are also taking 80-days worth of chocolate bars with them, but will spend several hours removing the wrappers before they pack them up.
"Everything is weighed, right down to the gram, which shows the planning that goes into it," explained Joe.
If all goes well, they should reach the South Pole around Christmas time. There will be no turkey with all the trimmings however; instead they will be celebrating with a pork pie and a dram of whisky.
The pair will then head back to Hercules Inlet at the southern tip of the Ronne Ice Shelf, using kite-skis to cover the 700-mile return journey in only 20 days.
Trekking across an unforgiving and unrelenting landscape in single-file with no-one for miles is a true test of friendship. Luckily the two men are firm friends, and Joe is confident they will cope.
"I think our characters complement each other, and we have some good playlists lined up on our iPods just in case," he said.
Their efforts so far have inspired more than 3,000 young scouts to complete their HSX Antarctica Challenge Badge.
To be awarded the badge, youngsters must complete four Antarctic adventures, which range from cooking and eating a dehydrated meal, to putting up a tent in thick padded gloves.
"Before the expedition, we are getting out and meeting as many scouts and schoolchildren as possible to allow them to get hands on with our kit and ask questions about achieving their own dreams; we aim to continue this long after we return from the Pole," said Joe.