Holyhead Marina to get £100k for clean-up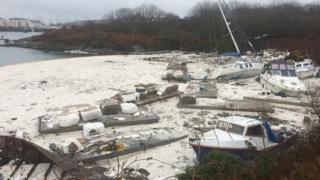 A total of £100,000 is expected to be offered by the Welsh Government towards the cost of cleaning up Holyhead Marina.
The marina was hit by strong gales in March when Storm Emma damaged 80 boats, several of which sank.
Pollution from the wreckage of boats in the marina is thought to have affected miles of Anglesey's coastline.
First Minister Carwyn Jones visited the marina on Thursday to announce the funding.
He said £30,000 would go towards the cost of the clean-up, while £70,000 will be made available to help businesses struggling as a result of the damage.
"The taxpayer can't pay for what insurance should be paying for. But what we can do is make sure there is money available to promote the businesses that use the marina and to help them retain and gain business," he said.
'Terrible incident'
Anglesey Council leader Llinos Medi said there had been "tremendous damage" to the marina, local businesses were "suffering" and the impact on the environment and beaches had been "considerable".
She added: "Thankfully, everyone, from businesses to volunteers, has pulled together to tackle this terrible incident and we are now working towards recovery."
Significant progress has been made to clean up the area since the storm, with an estimated 40 tonnes of polystyrene and 3,000 litres of oil recovered from the marina and neighbouring beaches, the Welsh Government said.
The announcement comes on the day Holyhead welcomes the first cruise ship of the season.