Dragon holograms 'fly' into Caernarfon Castle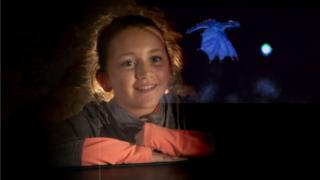 3D miniature dragons have been brought to life in a new interactive attraction at Caernarfon Castle.
Controllers will have the ability to "fly" their dragon around the castle after game designers used latest technology to create the holograms.
It comes after animatronics models of dragons helped to attract 500,000 visitors to Caerphilly Castle in 2017.
Welsh Government monuments service CADW has launched its Castle Alive! campaign to promote the landmarks.
The game, Legends of the Sky, uses projection technology to issue commands to the dragon at the swipe of a finger, making them breathe fire or fly around a model of the basement of Caernarfon Castle's Eagle Tower.
It has been created by Bafta award winning Cardiff-based digital studio, Rantmedia Ltd.
A mini version of the hologram display case housing the game can be purchased to create small holograms controlled via CADW's smartphone app.
Rantmedia founder Anton Faulconbridge said: "We hope that the public enjoys playing it as much as we've enjoyed creating it."
Culture, Tourism and Sport Minister Lord Elis-Thomas said: "Cadw has recently celebrated its best commercial year on record, and we hope that Legends of the Sky will help attract many more people to Caernarfon Castle by providing a new and exciting way of exploring the impressive fortress."