Father and sons jailed for Barmouth 'teddy bear' ecstasy sale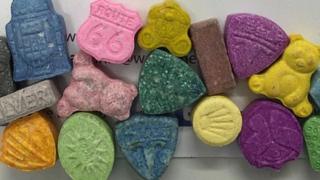 A father and his two sons have been jailed after selling a teenager ecstasy tablets shaped like teddy bears that left him critical in hospital.
The 16-year-old boy almost died after taking two of the £10 pills at a disco in Barmouth.
Brothers Rhun Glyn, 21, and Evan Glyn, 18, and their dad Nigel Jones from Penrhyndeudraeth, Gwynedd, were jailed on Thursday.
Judge Niclas Parry said the boy only survived "by the skin of his teeth".
Caernarfon Crown Court heard how the brothers sold drugs to a queue in a toilet - as if it were "a sweet shop" - at the young people's disco in 2016.
Simon Rogers, prosecuting, said a teenager who took two £10 pink teddy bear-shaped tablets fell unconscious and his eyes were "rolling".
Following the sentencing the boy's father said: "The sheer panic and fear driving to Wrexham hospital that night are indescribable.
"To see him unconscious, pale, prostrate on a bed and unrecognisable is something I hope and pray no other family should go through."
When police searched the defendants' family home at Adwy Ddu, Penrhyndeudraeth, they found drugs and mobile phones.
Rhun Glyn, who is serving six years for a "bottling", received a further three years after admitting supplying ecstasy, and possessing cocaine and ecstasy with intent to supply.
His younger brother Evan, a college student, was jailed for two-and-a-half years after admitting possessing drugs with intent to supply.
Jones, a stonemason, was jailed for five years after being found guilty after trial of being concerned in the supply of cocaine.
Judge Parry said Jones should be "utterly ashamed" of allowing his sons to use his home as a drugs den.
"This is a frightening example of a serious case of supply which literally came close to causing the death of a young boy," he added.
"Perhaps this is the kind of example that will send out the message to young people ecstasy tablets are not sweets and cocaine isn't cool. They are lethal substances."