Missing Coleby twins remembered 75 years after deaths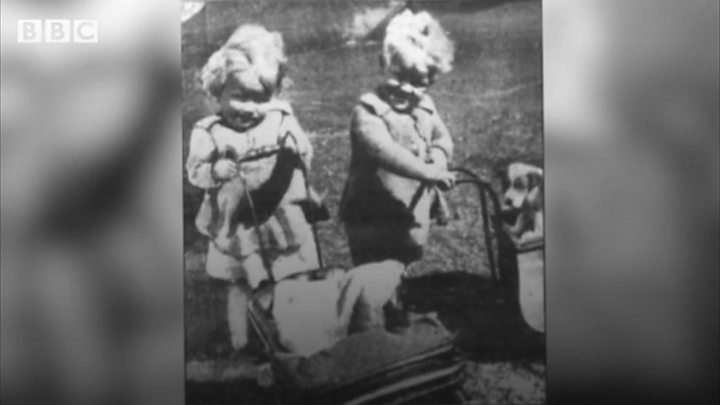 In a tranquil wartime village nestling between the mountains and the sea, there was panic.
A mother calling out for her three-year-old twins - her son and daughter.
Wrapped up against the January cold - Neil and Jacqueline Coleby were playing happily in the garden of their cottage in the shadow of Snowdonia's Caerneddau mountains.
And then they disappeared - sparking one of the largest searches Britain has ever seen.
It was a race against time - and a race the quarrymen, shepherds, soldiers - and even the might of New Scotland Yard - lost.
Almost a week later on 24 January, 1943, the two young children were dead - their bodies found face down on a track at the foot of a mountain. They had frozen to death.
Despite the nationwide outpouring of grief for these two young lost souls, memories of the tragedy faded quickly.
Perhaps it was was a sign of the times, when the daily news diet was one of war and rations, and Britain's gaze was firmly fixed across the English Channel towards France.
But the tragic events that unfolded over those wintry days - the search, loss, mystery - and the cruel gossip - have been pieced together by local man David Jones, a search and rescue dog trainer by profession.
He traced surviving relatives of the two children, including their younger brother Peter, and invited them back to the home village in Capelulo in Conwy county.
"It's been hushed up for 75 years," said Mr Jones.
"My nain [grandmother] down in the village here, my father, aunties, uncles and everybody else in the village knew about this tragedy, but it has been sort of pushed to the side over all these years.
"It was the largest search that they had mounted in Wales at that time.
"Six hundred men - military; they had army, commandoes, Royal Air Force, bloodhounds, Anson planes - and they still failed to find the twins."
Senior police officers from Scotland Yard in London were called in after a second fruitless day of searching, and their focus was the mother, Audrey.
"It was turned from a search into a criminal case, and they absolutely interrogated Mrs Coleby - day and night," said Mr Jones.
"One interview with her lasted seven hours.
"They cancelled the search when this was going on. They thought the twins had come to harm and she had buried them in the woods here."
In the surrounding villages, the rumours were spiralling out of control - the children had been found dead in a pond, or their bodies were in a mountain cave.
The Daily Mirror printed an appeal from the distraught mother to "stop the wicked rumours".
"I am convinced they are not dead," she told the newspaper.
"They have been kidnapped or else wandered in some lonely crofters hut and are being cared for.
"Every mother will understand my feelings and sufferings. I hope that people will stop adding to it by their wicked rumours."
When the weekend came - four nights without sight of the twins - it was agreed to redouble search efforts.
On Sunday afternoon, Home Guardsman Percival Parker was scouring paths along the River Gyrach towards the foot of the peak Talyfan when he came across a blue object - it was a little boy. It was Neil.
Minutes later, and just a little further along the river edge, the body of Jacqueline was discovered, her knitted grey and blue beret on the ground a few feet from where she lay.
They were about three-and-a-half miles (5km) from their home.
Investigations confirmed that both children had died of natural causes - exposure to the cold - and there had been no foul play.
But how did a pair of young children manage to wander so far from home?
David Jones thinks he has solved the mystery.
It seemed the children had set off to walk to the neighbouring farm - Ty'n Ffrith Fawr.
But on that day, there were large scale military exercises in the area.
One soldier later confirmed seeing the two on the day they went missing.
"Whilst proceeding from Ty'n Ffirth Fawr Farm to Halfway House I saw the two children walking hand-in-hand," cadet officer Edwin Knowles-Bolton wrote in a statement to the investigation.
"They were unaccompanied and appeared to be perfectly happy.
"I called out to the children for purpose of ascertaining our position. They did not reply but appeared to hurry away on our approach."
The last sentence may hold the key to what happened, according to Mr Jones.
"There was probably firing, and mortars and everything. We think then that the line of the attack has pushed the children further up towards Talyfan."
Two scared young children, confronted by scores of soldiers, with explosions and shots going off around them. It is little surprise that they kept on going so far from home, he believes.
On Friday, their brother, Peter Coleby, returned to the house where the twins had lived - and to their grave in the nearby St Gwynan's church.
His family left the area in the aftermath of the deaths and he was brought up in rural mid Wales.
"My parents didn't talk very much about it," said Mr Coleby.
"I only ever gleaned some information about the twins from the odd comments that were made over the years."
Now, 75 years after their death, their surviving brother said it was good to finally put rumours and speculation to rest - and tell the real story about what happened to the twins.
"To have proper research carried out into exactly what did happen, one way or the other, is always good," he said.
"Yes, it is stirring new emotions, but I think deep down we are pleased that this has all come to light."