Girl buried under collapsed sand dune on Anglesey beach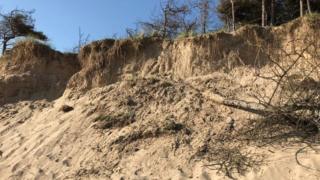 An 11-year-old girl had to be rescued after she was buried under a collapsed sand dune.
The child got trapped at Newborough beach on Anglesey on Wednesday afternoon after a hole and tunnel had been dug.
Members of the public managed to uncover the girl's head before coastguards and fire crews freed her.
Senior maritime operations officer Gareth Jones has warned beachgoers about the dangers of sand dunes.
"This young girl is very lucky to have escaped serious injury or even death," he added.
"It was a very close call indeed and the circumstances could have been very different had those who'd helped her not managed to free her airway."
Mr Jones said sand dunes are "notoriously unstable and digging large holes or tunnels in them can be extremely dangerous or even fatal".