Welsh princess memorial found broken on Snowdon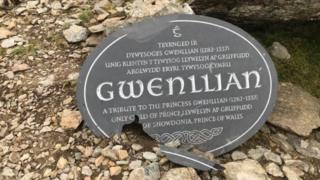 A memorial plaque to a Welsh princess that went missing from its home at the top of Snowdon has been found vandalised several weeks later.
The memorial to Princess Gwenllian, the only child of the last sovereign leader of Wales, Llewelyn ap Gruffudd, was found after a Facebook campaign.
It is thought the memorial was carried down the Llanberis Pass and discarded near the Old Stables.
The Princess Gwenllian Society said it was "saddened" by the discovery.
Tecwyn Vaughan Jones from the society said: "We are not sure what has happened to the plaque. Someone or some people have carried it away.
"It's not completely damaged and it's difficult to understand how anyone is capable of damaging such a significant object.
"We are saddened as a society to think that the fate of the plaque was in the hands of these vandals."
It is not known if the plaque will be put back in the same place or how much it will cost to repair.