Voyage of Dr Dolittle crew fixes Bangor's big pothole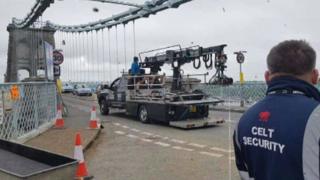 When Hollywood rolls into town you could be forgiven for expecting it to be all glitz and glamour.
But residents in Treborth in Gwynedd were delighted when a film crew got their hands dirty and repaired a giant pothole.
The 1.5m (4.9ft) wide hole - dubbed the "biggest in Bangor" - was filled by the makers of 'The Voyage of Dr Dolittle'.
Local trader Gareth Jones said: "It's good they came to do the film, or it would still be there in six months."
Locals had complained about the state of the road near the Menai Suspension Bridge, and had taken to placing traffic cones in the ever-expanding pothole to alert drivers.
You might be interested in these stories too:
The councillor filling in potholes himself
The worst potholes - your pictures
Dolls' heads used for pothole protests
Mr Jones had hoped Gwynedd council would repair it, but said he had been told the road was not their responsibility.
"I travel a lot with work and I've never seen such a big pothole. Nobody really wanted to do anything about it," he said.
In the end it was Hollywood that came to the rescue, with the film makers offering to repair the hole as part of a deal to film at the location.
The bridge was partially closed on Sunday as scenes for the movie, starring Robert Downey Jr, Michael Sheen, Emma Thompson and Antonio Banderas, were shot.
But not everyone appreciated seeing the film crew as motorists faced long tailbacks.
Pedestrians were offered lifts in a minibus when the bridge briefly reopened every 20 minutes in between takes.
One pedestrian, Steve Owen, said he had been waiting more than an hour to cross.