'Fairytale-like' Conwy Gwrych Castle bought by trust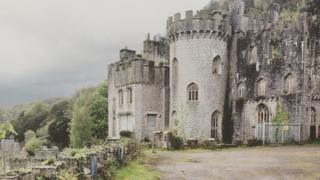 A derelict 19th Century castle in Conwy has been bought by a trust that has been trying to preserve it for decades.
Gwrych Castle near Abergele was due to be auctioned off in Manchester on Thursday, but its listing was withdrawn on the eve of the sale.
The Gwrych Castle Preservation Trust was able to buy the Grade I-listed building after receiving two grants.
The castle was listed with a £600,000 guide price.
The trust said the UK government-funded National Heritage Memorial Fund (NHMF) stepped in with a grant of £600,000.
In addition, it received a "major grant" from the Richard Broyd Charitable Trust.
Derelict shell
"After 50 years of uncertainty and having fallen into a perilous state-of-disrepair, the future of one of Wales's most important and fairytale-like country houses, that was set to become a royal residence, is now secure," the trust said.
Gwrych Castle was built by Lloyd Hesketh Bamford-Hesketh between 1810 and 1822.
During World War Two, it housed 200 Jewish refugee children as part of Operation Kindertransport.
After the war the castle was one of the first country houses in Britain to open to the public.
The doors of the castle closed to the public in 1985 and it started to decline.
It was bought in 1989 by an American businessman but plans to renovate the building didn't progress. The castle was looted and vandalised, reduced to a derelict shell.
Mark Baker, Chair of Gwrych Castle Preservation Trust, began the campaign to save the trust in 1997.
Since then he and volunteers have saved sections and signed a lease to look after a large part of the grounds.
The castle and grounds are currently open daily for visitors but sections of the main building are closed due to its derelict state.
The Gwrych Castle Preservation Trust will now set out plans to renovate the castle and the 250 acres of park and woodland.