Anglesey exhumation 33 years after man went missing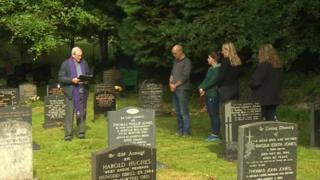 It is hoped than an exhumation will help find out what happened to an Irishman who went missing 33 years ago.
Police will exhume remains from Menai Bridge cemetery on Anglesey on Tuesday as part of an operation using DNA technology.
The remains are now thought to belong to Joseph Brendon Dowley who was last seen about to board a ferry in his native Ireland.
It is hoped an identification will bring the family closure.
The body, unidentified at the time, was found on Rhosneigr beach on 9 November 1985 by an airman from nearby RAF Valley who was running on the shoreline.
You might find these similar stories interesting too:
Mystery body on the moor finally identified
Operation Orchid tries to identify remains of 17 people
Despite an investigation, attempts to identify him proved fruitless with an inquest returning an "open verdict".
However, under Operation Orchid, detectives are now able to use DNA technology to help identify human remains discovered in the area over the last five decades.
Det Con Don Kenyon, of North Wales Police, said an investigation has suggested there is "a strong possibility" the remains belong to Mr Dowley.
"The focus of the operation is simply to identify, reunite and allow the dignity of a funeral service for family and friends to pay their respects," he added.
Mr Dowley was 63 and living in London at the time he disappeared.
After visiting family in Ireland in October 1985, he was last seen when a relative drove him to the ferry terminal.
If the identification is positive, it is hoped the remains can be returned to Ireland for a funeral.
Mr Kenyon added "due respect and regard" will be given for other people buried at the cemetery and the exhumation should be finished by late afternoon.