Wylfa Newydd nuclear plant gets EU environmental backing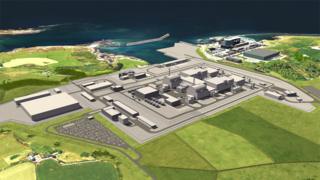 The planned Wylfa Newydd nuclear power plant on Anglesey has been granted environmental approval by the European Commission.
Developer Horizon has been given a "positive" opinion by the commission.
The ruling means it was considered that it would not have health or environmental impacts on other member states.
Horizon will now need approval from Natural Resources Wales (NRW) and ultimately the UK Government.
Other Wylfa Newydd stories you might be interested in:
Wylfa Newydd protesters go to Japan
Will Anglesey profit from nuclear plant?
Bird colony delays nuclear plans
The commission assessed that the application fully complied with European safety standards covering routine operations, decommissioning and spent fuel storage as well as the possibility of accidental release.
Horizon CEO Duncan Hawthorne said that the approval under Article 37 of the Euratom Treaty added to the "significant momentum" behind the project.
"We will now continue to work with the environmental regulator in Wales to take this clearance forward for the domestic permits Wylfa Newydd also requires," he said.
NRW needed the positive opinion before it could go ahead and complete its own decision on whether or not to grant an environmental permit for the nuclear plant.
The entire process is being overseen by the planning inspectorate with the ultimate decision resting with the UK secretary of state for business, enterprise and industrial strategy, not the local council or Welsh Government.
If Horizon passes all the hurdles then Wylfa Newydd could be operational in the middle of the next decade.
Horizon has said construction would create up to 8,500 jobs with the finished plant providing power for around five million homes.