Woman died after getting stuck in Pennal airing cupboard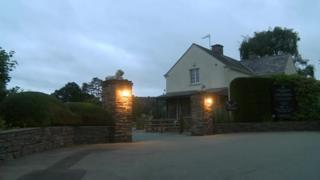 A woman died after getting trapped in an airing cupboard while on holiday, an inquest has heard.
Elizabeth Isherwood, 60, from Wolverhampton, tried to break out using a piece of water pipe.
But after breaking the pipe, she got sprayed with water and subsequently died from hypothermia at Plas Talgarth Country Club near Pennal, Gwynedd.
Coroner Dewi Pritchard Jones recorded a conclusion of misadventure at a hearing in Caernarfon.
The inquest was told Ms Isherwood checked in on 23 September 2017, but her body was not found for a week.
It is believed she got trapped the night she arrived or the morning after when she was going to the toilet, but the coroner said it was difficult to know when.
The internal doorknob disintegrated, meaning she could not escape.
'Sheer bad luck'
"Being unable to turn the lock and realising she was trapped and there was no light, at some stage she first of all pulled the shelves off. Whether she used them to try and get out, I can't say," the coroner said.
"She pulled the copper piping and a piece was broken off. This was used to try initially to open the door because there were marks on the door but also used to try and break a hole through the wall of the airing cupboard."
Mrs Isherwood managed to make a hole in another wall, but the coroner said it appeared she had not realised this.
Mr Pritchard Jones said: "It was sheer bad luck that the knob disintegrated while Mrs Isherwood was in the cupboard."
She was found by maintenance workers who noticed a hole in the plasterboard leading to the bedroom where she had tried to break through the wall.