Anglesey exhumed body tests 'could take four weeks'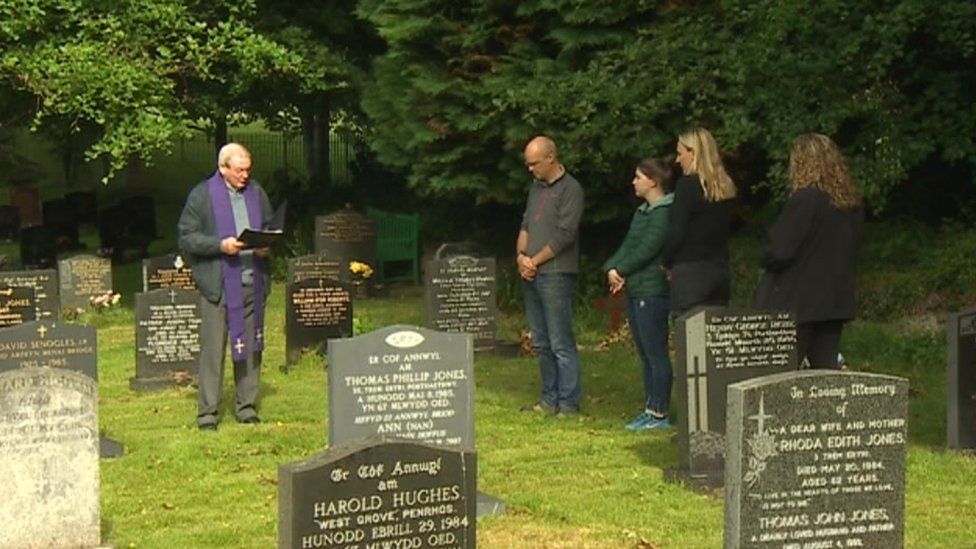 Tests on an exhumed body thought to belong to a missing Irishman could take four weeks to complete, police have said.
The remains were removed from Menai Bridge cemetery in Anglesey on Tuesday as part of an investigation into the whereabouts of Joseph Brendon Dowley.
He was due to catch a ferry from Dublin before he disappeared 33 years ago.
North Wales Police said they hope the test results can finally give Mr Dowley's family closure.
Det Con Don Kenyon said: "The remains exhumed are strongly believed to be those of Joseph Brendon Dowley, a 63-year-old Irish citizen from Kilkenny.
"However, responsibility for formal identification rests with HM Coroner for north-west Wales Mr Dewi Pritchard Jones who will first require an examination of what was recovered."
The body, unidentified at the time, was found on Rhosneigr beach on 9 November 1985 by an airman from nearby RAF Valley who was running on the shoreline.
Despite an investigation, attempts to identify him proved fruitless with an inquest returning an open verdict.
However, under Operation Orchid, detectives are now able to use DNA technology to help identify human remains discovered in the area over the last five decades.
Mr Dowley was 63 and living in London at the time he disappeared.
After visiting family in Ireland in October 1985, he was last seen when a relative drove him to the ferry terminal.
Det Con Kenyon said: "We've had regular contact with Mr Dowley's family in Ireland and I've updated them following Tuesday's operation.
"I'm confident the exhumation will allow for sufficient DNA to be taken for a full comparison to be made which could take up to four weeks to complete.
"Our hope is to complete this stage of proceedings as quickly and professionally as possible so we can begin the process of reuniting the remains with family to grant them all the dignity and comfort of a full funeral and mass service."