Family-owned Llandudno shoe shop to close after 96 years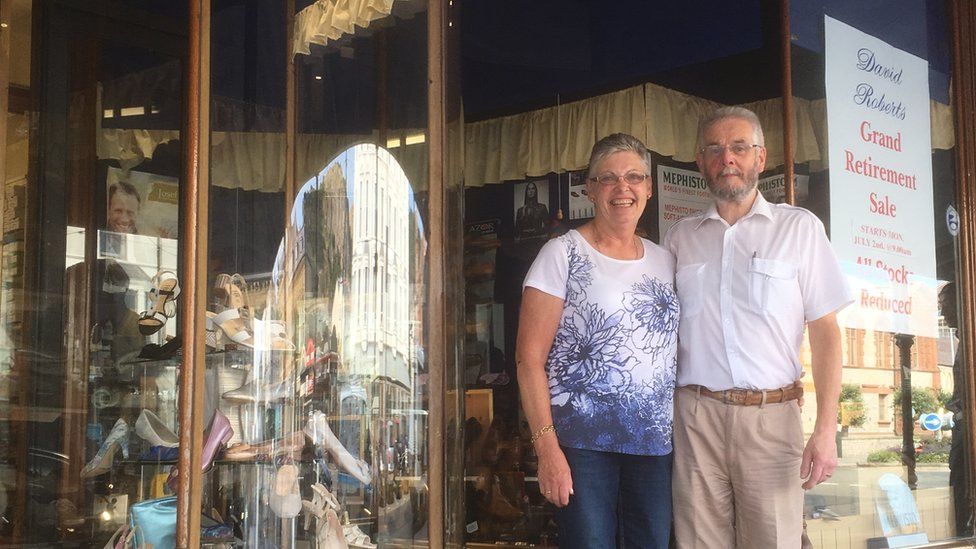 It has been providing footwear to customers in a seaside town for almost 100 years.
But one of the oldest businesses in Llandudno, Conwy county, with links to Harrods, is set to close its doors for the final time.
David Roberts Shoes of Distinction has been run by three generations of the same family since opening in 1922.
Now the current owners have decided to shut the shop to spend more time with their grandchildren.
The store was founded by Llanrwst-born David Roberts after he quit as head shoe buyer at Harrods, in London, to return to north Wales.
It opened with an announcement in the Llandudno Advertiser on 17 May, 1922, which said: "David Roberts late of Harrods would like to invite the discerning ladies and gentlemen of north Wales to visit his shop to view the ranges of British and Parisian designed footwear."
Mr Roberts' grandson Andrew and his wife Hilary currently run the store, but the couple have decided to retire by the end of the year.
"Hilary and I have thought long and hard before making this decision but we want to be able to spend more time with our daughters and our grandsons," said Mr Roberts.
"The last 96 years of David Roberts would not have been possible without the support of the many staff who have graced the shop, and importantly the many customers who have been fitted with shoes."
The founder ran the store until 1937 when his son David took over and was at the helm over a 30 year period, only to be broken for six years while serving in the armed forces in World War Two.
In 1967, he suffered a severe stroke and forced his young son Andrew, who was still in school, to take over the business.
For the first three months, Mr Roberts had to miss the first lesson of school every day to open the shop.
In 1986, he achieved membership of the Society of Shoe Fitters, becoming one of only a handful in Wales to gain the accolade.
Despite the changing fashions over the years, the shop was kept going until now.
"Customers are fully understanding about our decision," said Mr Roberts.
"Hilary and I want to thank them all for making David Roberts what it is today."