Kingdom litter contract could be extended in Conwy county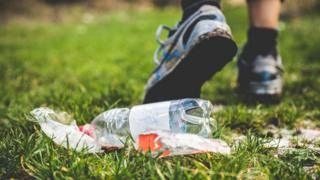 Controversial litter enforcement company Kingdom could have their contract extended by Conwy council by 12 months.
Flintshire council recently voted to terminate its relationship with the private firms over claims of "overbearing behaviour".
But Conwy look set to continue employing the firm, with the council recommended to extend their contract.
A decision will be made by the cabinet next Tuesday.
The recommendation was discussed by the council at a meeting on Wednesday, where councillors were deadlocked on the proposals to extend Kingdom's contract by six months or a year.
Kingdom are contracted by the council to regulate issues in the borough including dog fouling, littering and smoking in smoke-free zones.
Officers told members of the meeting that Kingdom staff in Conwy county had been "polite and courteous at all times" as they carried out their duties.
However the company was at the centre of a row in the county earlier this year after people were fined for dropping litter at Zip World Forest, despite it being private land.
Other councils in North Wales have been reconsidering their relationship with Kingdom amid claims of "overbearing behaviour".
A report before councillors warned: "Without a contract extension... the consequence would be a loss of net income overall of around £200,000 with no environmental enforcement and only a very limited amount of promotional work."
Glyn county councillor Chris Hughes supported the extension of the contract, saying he had heard very few complaints about Kingdom.
He said: "I understand there are a lot of concerns and there are a lot of issues.
"I think there would be as many if not more issues if we ceased to deliver a service, and I don't understand where the money would come from to continue the service bearing in mind the austerity agenda that we have to deal with."
Mostyn county councillor Greg Robbins said: "I don't think there is anybody sat in this room today who doesn't want to see enforcement.
"However, there are concerns about the current contract and we have not been given costed alternatives.
Both proposals were tied at eight votes each with the casting vote from committee chairman Councillor Nigel Smith favouring the one year option.