Dozens rescued from Llandudno sandbanks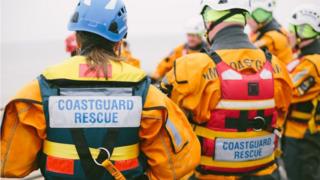 Coastguards were called to rescue of 38 people in danger of being cut off by the tide in Llandudno on Sunday.
Rescuers including inshore RNLI lifeboats got them ashore from the sandbanks on the West Shore with just minutes to spare.
Channels around the sandbanks fill rapidly when the tide changes, leaving people at risk of being stranded.
Those guided to safety included families, and a couple with their two dogs.
Similar incidents have become a "very common job" according to Holyhead Coastguard.
"There are some very big sandbanks and people like to go quite far out, and suddenly, the tide has turned and you're cut off from the shore.
"It's not usually local people who tend to do this, but tourists who aren't aware of the dangers."
Emergency services have been called to rescue people on North Wales beaches before getting trapped by sandbanks on 95 occasions so far this year.