Letters on 17th and 18th Century Welsh life to be digitised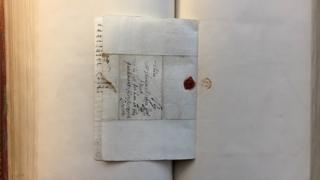 Three thousand rare letters written in the 17th and 18th centuries in Wales are to be digitised for people to read for generations to come.
The collection of letters, kept in the library on Mostyn Hall in Flintshire, will be researched at Bangor University after it won a £40,000 grant.
The letters were written during the periods 1672 to 1692 and 1721 to 1740.
It is one of the most comprehensive collections of letters surviving from those eras.
The letters were received by Sir Thomas Mostyn and Sir Roger Mostyn from a vast network of contacts and correspondents.
During this period the Mostyns of Mostyn and Gloddaith were one of the most prominent families in Wales.
The letters range from parliamentary affairs, religious debates and office-holding, through to book collecting, marriage strategies, education, antiquities and local gossip.
They also include a collection of personalised manuscript newsletters, sent from London to Gloddaith Hall, which provide detailed coverage on all aspects of national and international news.
All of the letters will be digitised and made available to search and read on the Early Modern Letters Online (EMLO) website, managed by the University of Oxford.
You may also be interested in:
Dr. Shaun Evans, director of the Institute for the Study of Welsh Estates, said: "The letters have the potential to provide new insights into a range of historical issues and events and will be used by academics for years to come.'
"[This funding] will allow us to unlock the research potential of one of the most important collections of letters surviving from late 17th and early 18th century Wales."