Conwy's Kingdom litter contract extended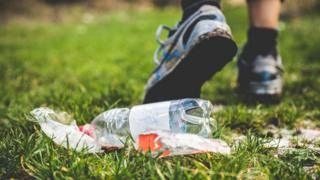 Litter enforcement company Kingdom has had its contract with a north Wales council extended until the end of March.
Many residents in Conwy will not be happy with the decision, a councillor acknowledged.
The firm has been instructed not to fine people for littering on private land and to drop targets.
The council will use the time to "explore a range of options" for future enforcement, the councillor added.
Flintshire Council recently voted to terminate its relationship with the private firm over claims of "overbearing behaviour".
Kingdom was at the centre of a row in Conwy earlier this year after people were fined for dropping litter at Zip World Forest, despite it being private land.
"We know this won't be the decision some had hoped for just yet," said Councillor Mark Baker.
"Looking to extend the contract until the end of March enables us to fully explore alternative options and maintain environmental standards in the meantime."
Meanwhile Wrexham Council has been slammed for a "lack of transparency" after its decision to hold part of a meeting discussing its contract with Kingdom in private.
The contract currently has just under a year to run until May.
A motion from Councillors Marc Jones and Carrie Harper called for the council to "suspend its contract with Kingdom Security with immediate effect".
But the council decided the motion should be held in private following legal advice.
"I think you have to be careful about hearing things behind closed doors because you will be open to challenges of lack of transparency and a lack of openness," said Mr Jones.
Wrexham Council's head of corporate and customer services Sioned Wyn Jones warned that details of the contract being disclosed in public would put companies off working with the authority.