Lockheed Martin to set up base in north Wales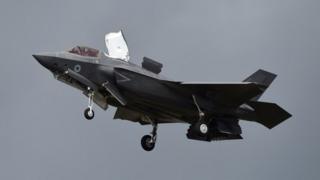 Global aerospace giant Lockheed Martin is to open an operation in north Wales as part of a £38m investment plan.
It will be set up at a new Advanced Manufacturing and Research Institute (AMRI) in Sealand, Flintshire.
Speaking to BBC Wales, Economy Secretary Ken Skates said companies like this "only invest in areas with a strong skill base".
"Having the weight of Lockheed Martin behind the AMRI is important," Mr Skates added.
UK Defence Procurement Minister Guto Bebb said: "As we look to our post-Brexit future, it is crucial that we create, develop and strengthen our relations with international partners across defence."
Lockheed Martin says it will work to strengthen supply chains and support the development of the advanced manufacturing and technology sectors.
Rick Edwards, Executive Vice President for Lockheed Martin International, claimed the firm's expertise would be "invaluable in helping the UK to be a world leader in defence and aerospace".
Some initial objectives of the partnership include working with the UK Space Agency and a £13m investment to develop and launch small satellite capabilities.