Man arrested after light shone at Bangor police helicopter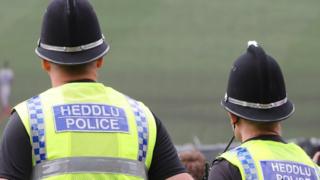 A man has been arrested on suspicion of endangering an aircraft after a light was shone at a police helicopter.
The helicopter was flying above Bangor searching for a missing person just before 23:00 BST on Monday when officers noticed the light.
An 18-year-old was arrested on the industrial unit in Llandegai, but has since been released.
A 47-year-old man was also arrested and given a caution after being aggressive towards officers.
Supt Neil Thomas said: "Shining a light towards an aircraft puts that helicopter and its crew at completely unnecessary risk.
"The aircraft was assisting local officers at the time searching for a missing person. This type of behaviour will not be tolerated and we will robustly deal with anybody caught behaving in this manner."
The missing person has since been found safe and well.