Welsh doctor hands back Ebola medal over NHS policy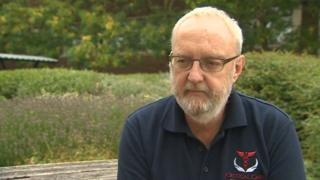 A doctor who helped treat Ebola patients has handed back a medal from the UK government to protest against migrants being denied free NHS care.
Dave Counsell, who works in Wrexham Maelor Hospital, is one of 20 people protesting the policy which is in place in England.
He was one of many NHS members who went to help the Ebola relief effort in West Africa in 2014 to 2015.
The Department of Health and Social Care has been contacted for a comment.
Mr Counsell, from Conwy, volunteered to travel to Sierra Leone in order to help with the Ebola relief operation in February 2015.
"Some of the things I saw out there were unprecedented and very distressing," he said.
"But it was necessary and we were given a medal.
"Returning the medal to support this protest is very justified."
Mr Counsell has returned the medal to the government in protest at NHS England's policy to charge undocumented migrants for healthcare on the NHS.
The policy means that secondary care services, provided by hospitals and specialists, may not be provided free of charge.
Accident and emergency services, diagnosis and treatment of certain illnesses including HIV and TB, and family planning are just some of the services which are provided free of charge to migrants.
"It would be nice to have kept it, but this is a good cause," Mr Counsell added.
"The people that are suffering as a result of these policies are generally people who are vulnerable."
Despite the policy not being implemented in Wales, he is making a plea that the "Welsh Government don't even consider implementing these rules".
"Hospitals were not designed to be a border crossing [with] immigration controls and that's what they're increasingly having to deal with in England," he added.
NHS England declined to comment.
A Welsh Government spokesperson said: "We have no intention of removing free healthcare for migrants, asylum seekers and refugees in Wales. Many of those who come to Wales are fleeing war, famine or persecution and we remain committed to providing access to health care for these vulnerable individuals."