David Daniel Hayes: Fugitive found teaching in Spain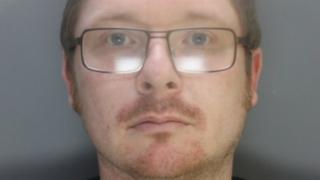 One of Europe's most wanted fugitives, missing since failing to answer child sex offence charges in 2015, has been arrested in Spain.
David Daniel Hayes, 39, from Anglesey, disappeared after making his first court appearance.
North Wales Police made a number of appeals, while he was featured on BBC Crimewatch and on a list of the most wanted fugitives in Europe.
Spanish police said he was found in the southern city of Granada.
They said he had been working as a private English teacher under a false name.
North Wales Police had put out extensive calls for information, after the force believed he had travelled to mainland Europe.
On Friday, the force said he was now awaiting extradition.
Investigating officer Det Con Tim Dobson said Mr Hayes "mistakenly believed he could avoid police and the courts by fleeing the country following charge".
In a statement, the Guardia Civil said he was charged with nine sexual offences against two children in the UK when he disappeared after boarding a plane from Liverpool to Amsterdam in May 2015.
After settling in Granada, suspicions were raised about his identity and he was arrested on Wednesday and will appear before a Madrid court.