Plaid Cymru chairman Dixon quits over party's direction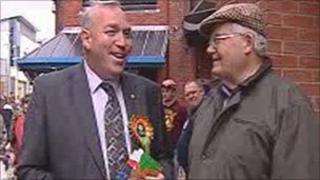 The national chairman of Plaid Cymru has handed in his resignation citing personal and "significant political" reasons.
John Dixon, 58, who has held the role for eight years, told the party he was quitting before announcing it on his blog.
He said the party was moving in a way he could not support and he could no longer afford to devote so much time to the unpaid role.
He has no plans to leave the party.
Mr Dixon said it was not a sudden decision but one he had been 'pondering' for some time.
Writing on his blog, he said: "At a personal level, I have reached the point where I can no longer afford to put so much of my time into activity which generates no income; I need to refocus that time on activities for which I get paid.
"I've effectively been working on only a part-time basis since 2006 in order to put time and effort into campaigning in Carmarthen West; with that imperative removed, it's time for that refocusing.
"But it isn't as simple as just the personal and it would be dishonest of me to pretend that it is; there are some significant political reasons as well.
"There are a number of ways in which I feel that the party has moved, or is moving, in a direction which I cannot support, but being a national office-holder has fettered my freedom to say so."
'Unrepentant radical'
He went on to say that he had not taken on the role to take part in the "mechanics of party organisation" but because he thought the party had a different vision for the future.
He added: "And in that area, I think we have a few problems."
Mr Dixon stood in one Assembly election and two general elections in the Carmarthen West and South Pembrokeshire constituency.
His term of office was due to end next year.
The former chair says he now hopes to concentrate on political rather than organisational matters within the party and has no plans to leave Plaid Cymru.
On his blog, Mr Dixon describes himself as: "An unrepentant radical who believes strongly that we can reshape economics to serve humanity rather than adapt humanity to serve economics."