Confidence in poll system 'vital' says commissioner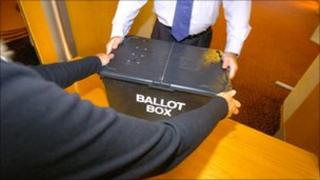 Welsh voters facing different ballots in 2011 must be able to feel confident in the voting system, says Wales' electoral commissioner.
Ian Kelsall spoke as an Electoral Commission report on the 2010 general election called for UK law changes to address polling queues and fraud.
The report found the election was mostly well run, but that 30% in Wales were unhappy with arrangements.
"It's vital that they have confidence in the electoral process," he said.
The Electoral Commission's report found that two-thirds of UK voters surveyed were confident that the 2010 elections were well run.
But it called for immediate action to be taken to ensure voter confidence for future elections.
With turnout for the May poll up over 4% some polling stations were unable to cope, with around 1,200 voters turned away from the ballot boxes, after long queues built up outside.
The report called for a change in the law to allow voters stuck in queues at polling stations to able to vote after the 10pm deadline in the future.
The report also calls on the UK Government to consider the case for demanding ID checks at polling stations, to minimise the risk of electoral fraud.
Referendum
In 2011 voters in Wales are expected to make at least three trips to the ballot box.
A referendum on further powers for the Welsh assembly, the Welsh assembly election and a UK-wide referendum on the voting system are all expected to take place.
Mr Kelsall said: "Next year voters in Wales will have several opportunities to have their say at the ballot box.
"It's vital that they have confidence in the electoral process and the UK Government addresses some of the areas where change is needed."