No coalition 'discontent' says Welsh Lib Dem president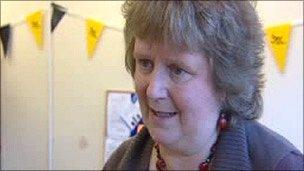 A senior Welsh Liberal Democrat has dismissed newspaper reports that several of the party's MPs could defect to the Labour Party.
Former leader Charles Kennedy was the most high-profile member predicted to jump ship - a notion he has vehemently denied.
Now the president of the Welsh Liberal Democrats, Christine Humphreys, has rejected whispers of any "discontent".
She said the coalition was a business relationship, not a "love match".
The former North Wales assembly member told BBC Radio Wales: "It's certainly not something I've come across, the discontent.
"There's certainly a feeling of realism that we are part of a coalition government that has to make unpleasant decisions.
"But we went into this situation with our eyes completely open, we knew that we would come in for flak and we knew that there were unpleasant decisions that had to be made."
When asked how the new political marriage sat with the party's more historically radical members, Ms Humphreys said pragmatism had won over left-wing ideology.
She said: "I've had it described to me as this is certainly not a love match, it's a business relationship and that's the attitude we do have.
"Normally we would have looked towards the left-wing policies of perhaps a Labour government, or a Labour-led government, but the numbers just didn't stack up.
"I find some things unpleasant to swallow but this is the reality of a coalition.
"When you're in a coalition, there is the disadvantage that you have to accept some policies that you don't particularly like but there is also the great advantage that you can mitigate against some of the more extreme decisions that would be made during another government."
She was asked how members felt after deputy prime minister Nick Clegg recently indicated that changing the voting system to alternative vote (AV) would not be a make-or-break issue for the coalition.
The push for electoral reform and a shift towards a voting system that follows proportional representation (PR) has been the Holy Grail of Liberal Democrats for 40 years.
Ms Humphreys admitted the AV referendum was not what the party would have originally wanted.
She said: "It isn't giving up, but you have to accept sometimes that you have to win battles and carry on fighting the war and I'm sure that's what the Lib Dems will do."
Lib Dem opinion poll ratings have fallen from 27% at the general election, to about 14%.
This has caused concern among the party's MPs and members, who fear their voters have deserted them for Labour over Mr Clegg's decision to form a coalition with the Conservatives.
Labour has seen a surge in support since the general election, despite being in the middle of a leadership contest.
But senior Lib Dem figures, including Mr Clegg, have argued that the party has been in worse shape at the polls and bounced back.
Ms Humphreys admitted they may be dropping in the polls but pointed out membership has risen by 4% in Wales and the Liberal Democrats have registered 7,000 new members across the UK.
She added: "I think that's the reality that there might be some problems, but we have different policies in Wales, that's the beauty of devolution.
"People are appreciating what we are doing. We are making the hard decisions of the coalition that little bit easier to bear."
Related Internet Links
The BBC is not responsible for the content of external sites.