Welsh ministers 'disappointed' over Olympic deals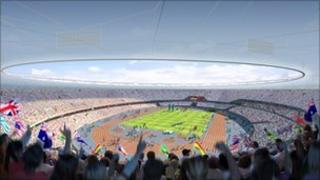 Ministers have been accused by Liberal Democrats of "sitting on their hands" as Wales misses Olympics contracts.
Lib Dems say no correspondence between assembly government ministers and the Olympic Delivery Authority (ODA) took place in the last three years.
The assembly government said it was disappointed at the value of contracts given directly to Welsh companies.
But it said it had hosted a number of Olympic events and was preparing to "ramp up engagement" with Welsh firms.
Figures show Welsh businesses have won £573,678 worth of direct Olympic contracts. England has won the vast majority of the "tier one" contracts available, worth more than £5bn, Scotland £22m, and Northern Ireland £17m.
Welsh Lib Dems say Freedom of Information (FoI) requests show a lack of communication between the assembly government and the Olympic Delivery Authority (ODA) which they claim has left "Wales trailing" in relation to Scotland and Northern Ireland.
They said the requests showed Economy Minister Ieuan Wyn Jones, replied to his Northern Ireland counterpart bemoaning Wales' lack of success as "lower than we hoped."
Lib Dems also said the information showed Mr Jones had not written to the ODA himself.
About 1,300 "tier one" contracts worth more than £5.12bn have been directly awarded by the ODA, with 98% to firms in England.
The combined value of all such contracts awarded to the rest of the UK amounts to less than 1% of the whole.
'Fighting for Wales'
Lib Dem economic spokeswoman Jenny Randerson AM said she was shocked at a lack of correspondence by Welsh ministers over these contracts.
She said: "Why haven't Welsh ministers written to Lord Coe, just as the minister of enterprise for Northern Ireland has done?
"It is one thing for officials to be talking to the ODA but we need our ministers on the field fighting for Wales too."
The assembly government said the value of contracts awarded directly to Welsh companies was disappointing, particularly as it invested in the 'CompeteFor' portal by which contracts were awarded and worked to help companies "raise their game".
She said the assembly government hosted a number of visits by the Olympics' London Organising Committee and the ODA, and Welsh ministers had spoken to Lord Coe.
She said many Welsh business people were at these visits as part of a wider series of events, and there had been seminars and "meet the buyer" sessions.
A "considerable" number of Welsh companies have won orders through supply chains and sub-contracts, and an action plan was being prepared "to ramp up engagement with Welsh businesses on the estimated £700m of remaining contracts".
Figures 'misleading'
The ODA has argued that tier one contract figures are misleading because they do not show how value trickles down the supply chain through subcontractors.
The ODA estimates that overall up to 70,000 contracts will be generated throughout its supply chains.
An Olympic Delivery Authority spokesperson said: "UK businesses of all sizes and from every sector are already working together to deliver the largest project this country has seen for generations and are reaping the benefits of millions of pounds of work.
"ODA direct contracts are just the tip of the iceberg and figures showing regional breakdowns do not give the full or accurate picture of how the value of contracts is being spread across the UK.
"There are many sub-contracts going to Welsh businesses such as the steel for the Aquatics Centre roof which has been awarded to Rowecord in Newport and is a multi-million pound contract."