New powers allow weapons search of pupils in Wales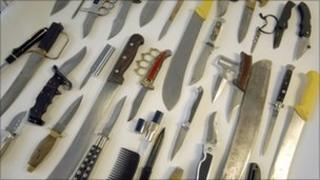 Schools and further education colleges in Wales will soon be able to screen any pupil for a knife or weapon.
New powers to allow the search of pupils suspected of carrying a weapon into their educational institution have been signed off by Education Minister Leighton Andrews.
The Welsh Assembly Government says it is part of its bid to crack down on the culture of violence.
Guidance for all teachers in schools will be available from 31 October.
Mr Andrews said: "It is important schools and colleges are safe places to ensure the best possible educational environment for our young people.
"Views were sought on the new powers as part of the 'Safe and Effective Intervention' guidance consultation which closed in February. There was a great deal of support for the powers.
"We must now make sure schools and colleges understand these new powers and how to use them."
The new powers are contained in the Violent Crime Reduction Act 2006 and will come into effect on 31 October 2010.
Any pupil suspected of carrying a weapon onto school premises is likely to be searched.