Welsh heritage minister misses Delhi games plane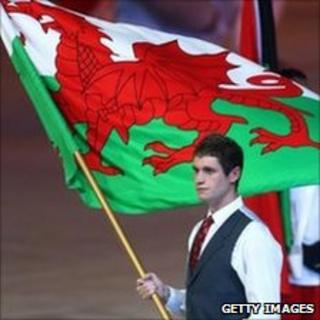 A clerical error has been blamed after a Welsh minister missed a flight to the Commonwealth Games in Delhi.
When Heritage Minister Alun Ffred Jones and an official got to Heathrow Airport the plane had left 12 hours earlier, with the flights costing over £3,000.
He has sent an apology to Welsh athletes after Saturday's mix-up meant he missed the opening ceremony.
His other commitments mean he cannot now go, and officials are trying to get back other costs.
Mr Jones, the AM for Arfon, said: "It's disappointing not to be able to attend the opening ceremony but I would like to take this opportunity to wish the team the very best of luck for the games.
"We are all very proud of their achievements to date and we know that they are determined to do their best for Wales in Delhi."
Despite missing out on seeing Team Wales in action, Mr Jones will be welcomed at the team's homecoming reception.
Chris Jenkins, head of Team Wales, said: "We are obviously disappointed that the Minister is unable to join us in Delhi but we are looking forward to seeing him at the homecoming reception, hopefully with a clutch of medals."
A Welsh Assembly Government spokesperson said the price of the missed flights for the minister and one official was £3,114, adding: "We are attempting to recover other costs such as accommodation."
Last week Mr Jones told journalists he was looking forward to the trip and was due to meet Welsh team members.
The Commonwealth Games is the only multi-sport event of its kind in which Wales competes as a nation.
Meetings missed
During his stay in Delhi, he had also been expected to attend the fifth Commonwealth sports ministers meeting, and talk to representatives from New Zealand about their new sport and recreation strategy.
In addition, he was due to meet British Council officers to discuss collaboration between Wales and India on cultural projects.
Mr Jones had travelled to Heathrow on Saturday straight from a meeting with UK Culture Secretary Jeremy Hunt at the Ryder Cup.
He had been due to fly back on Tuesday morning.
Welsh Conservative leader Nick Bourne said it was hard for him to comment, as he did not know whose fault it was.
Mr Bourne said: "I am sure those of us who have flown in the past can remember a time when we have clock-watched on the way to the airport.
"However an Assembly Minister casually strolling into check-in while blissfully unaware that his plane roared off without him half a day ago is quite some achievement.
"Mistakes can happen of course and it seems obvious the time was misread. Let's just hope the money is refunded."
Welsh Liberal Democrat leader Kirsty Williams said that she was "not that interested" that Mr Jones had missed the flight.
She said: "I'm sure that the minister and those making his travel arrangements will be suitably embarrassed, but let's face it - these things do happen."