What makes a language like Welsh or English 'official'?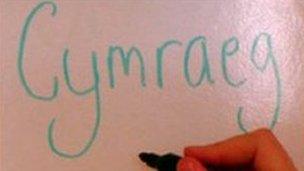 When is a language an "official" language?
Much of the impassioned debate around the proposed new law on the Welsh language centres on that complex question.
The assembly government maintains that its amendments confirm official status for Welsh.
But Welsh language campaigners argue the changes in status have no power in law.
This argument is complicated by the fact that the English language does not have an "official" status in law, so there is no clearly defined notion of what official status might mean.
Ultimately, perhaps, arguments about linguistic status are important as a way into arguments about linguistic rights.
When the assembly's legislation committee scrutinised the Welsh Assembly Government's proposals, it recommended the inclusion of a clear statement that English and Welsh are official languages of Wales.
What has actually been proposed by the ministers is a clause stating that "the Welsh language has official status in Wales" followed by a series of clauses explaining how that status is given legal effect.
For some language campaigners this is an unacceptable limiting of the concept of "official" status to cover the subject areas listed in the clauses.
These establish, for example, that all public sector bodies and some private sector companies - utilities such as telecoms, gas and electricity firms - must provide services in the Welsh language.
What that does not do, say opponents, is give Welsh speakers the right to demand services in Welsh and enforce that right through the courts.
But, unnecessary as it may be in practice, those are rights English speakers don't have either because, as stated earlier, English does not have an "official" status in law.
It is perhaps impossible for Heritage Minister Alun Ffred Jones and his government colleagues to chart a course on the Welsh language that satisfies most.
"I get the impression that if Moses secured the language's status on Mount Sinai, some people still would not be happy," he told BBC Radio Cymru's Post Cyntaf programme on Thursday morning.
If Welsh speakers did have a right to demand services in Welsh in every area of life and in every part of Wales, however few Welsh speakers live there, that would also meet opposition - from the businesses which would have to provide those services, for example.
But it is a course Mr Jones has to pursue. A new law on Welsh was a central promise in the One Wales document underwriting the coalition agreement between Labour and Plaid Cymru at the Welsh assembly.
It is also a vital issue for much of Plaid Cymru's support.
So it is imperative for that party, while in government, to bring such a law into being before the end of the current assembly term and next May's election.
Related Internet Links
The BBC is not responsible for the content of external sites.