Peter Hain named shadow Welsh Secretary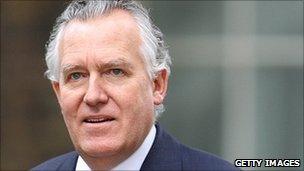 Peter Hain has been named in Labour's new shadow cabinet despite not winning enough votes from his fellow MPs.
The MP for Neath has been handed the post of shadow Welsh Secretary by Labour leader Ed Miliband.
Mr Hain fell three votes short of securing an automatic place in his party's front bench team but was one of five "wild cards" chosen.
Eight Labour MPs from Wales stood for the 19 elected posts but none secured the necessary backing.
Mr Hain said: "It is a privilege to serve Wales and Welsh Labour again at a key time when we fight for victory at the next assembly elections and against the disastrous and extreme Tory Lib Dem cuts.
"I am also very pleased that Ed Miliband has appointed me chairman of the National Policy Forum, which will form Labour's new agenda for government, and as his representative on the party's National Executive Committee."
Yvette Cooper topped the poll and former leadership contenders Ed Balls, Ms Cooper's husband, and Andy Burnham were elected.
Forty-nine candidates stood for the the 19 posts.
It was up to Mr Miliband to decide which of the successful candidates was given which job.
He was also able to choose five MPs for the shadow cabinet who did not get the required number of votes.
Welsh Labour leader and First Minister Carwyn Jones welcomed Mr Hain's appointment.
"We've worked very well together in the past and I look forward to working closely with him again in the future," he said.
"Having continuity in the shadow secretary office is very welcome, given the enormous political and economic challenges facing us between now and May.
"There is no question that Wales, and the Assembly elections, remain at the top of the priority list for the Labour Party - that was made clear by Ed Miliband in Manchester and it's been made clear again today."
Plaid Cymru's Jonathan Edwards MP said the lack of Welsh representation showed the Labour party had "betrayed its roots".
He said: "It is very telling that Welsh Labour's English counterparts didn't see fit to elect a single Welsh MP to the shadow cabinet.
"Welsh voices are not heard in the corridors of power at a UK level - and that is why we need greater powers devolved to Wales, and I look forward to those snubbed Welsh MPs becoming very active in the 'Yes' campaign."
A spokesman for the Secretary of State for Wales, Cheryl Gillan, said: "Peter Hain has made so many political comebacks he should change his last name to Mandelson.
"Ed Miliband has thrown this retread of the Blair and Brown governments a lifeline even though he failed to win the support of his own colleagues.
"We look forward to hearing what Mr Hain thinks should be done to tackle the deficit the government he represented built up, how he thinks we should grow the private sector in Wales he admits is too small, and what he'll do for workers he recently admitted Labour had turned their backs on."
Related Internet Links
The BBC is not responsible for the content of external sites.