Controversial Welsh NHS study's £500,000 cost revealed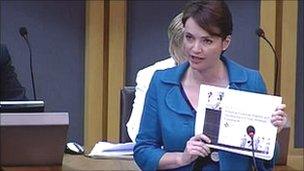 First Minister Carwyn Jones has revealed a controversial study of the Welsh NHS by management consultants McKinsey cost £500,000.
Welsh Liberal Democrat leader Kirsty Williams had claimed the health minister withheld the report from AMs.
Earlier, Carwyn Jones called the document "a compilation of slides".
Ms Williams said it was "an appalling waste" and "the most expensive PowerPoint presentation ever."
The McKinsey study has been at the centre of a bitter row between Mr Jones and the Welsh Liberal Democrat leader.
The document was dismissed by Mr Jones as "a compilation of slides" after claims, denied by Health Minister Edwina Hart, that she deliberately withheld it from AMs despite repeated requests for its publication.
In response to questioning from Kirsty Williams, Mr Jones said the work carried out by McKinsey cost £500,000.
The Welsh Lib Dem leader said, "This is yet another example of appalling waste, incompetence and mismanagement by the Labour-Plaid government.
"I am shocked the health minister approved the spending of £500,000 on a report that the health minister hasn't even seen and previously described as 'a little discussion paper'.
"This must be the most expensive PowerPoint presentation ever. That's £6,500 per slide."
Ms Williams said the health minister and the first minister have been downplaying the significance of this report.
She said: "The health minister has based the future of the NHS on this document and today we find out it costs £500,000.
"This is unacceptable at a time when we need a government that can achieve more with less but we have a Labour-Plaid Government that achieves less with more."
Conservative health spokesman Andrew RT Davies said he had expressed concerns over the "staggering costs, now revealed" of the work "on numerous occasions".
He said: "The minister has stated on numerous occasions that she has never seen the document, one that she describes as a mere discussion paper.
"Now, having seen the content, we find that this is a document upon which the future of the Welsh NHS is to be based. I find this most unusual."
The first minister refused to respond to comments from Ms Williams in plenary, pointing instead to the millions spent by both the UK Government and assembly government on developing the scrapped defence training academy planned for St Athan.
Mr Jones said, "What is expensive is the seven years of work that we have put in here to working with the UK government to the delivery of the defence training academy.
"Its been ripped out from underneath our feet.
"Four thousand jobs will be lost to Wales as a result of a decision taken by your government.
"That is what I regard as a betrayal of the people of Wales."
Related Internet Links
The BBC is not responsible for the content of external sites.