Order paves way for Welsh assembly powers vote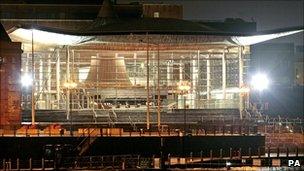 Wales is another step closer to holding a public vote on greater law-making powers for the Welsh assembly.
A draft referendum order - one of the formalities needed before a referendum can take place - has been laid.
It will be debated by assembly members next month with a view to staging the vote on 3 March next year.
Currently the assembly only has the power to create its own laws where the UK Parliament has specifically agreed that it can.
The order contains the question that will be put to voters which has been agreed with the UK Government and Electoral Commission.
Welsh Secretary Cheryl Gillan said: "I have always been committed to giving the people of Wales the opportunity to decide in a referendum whether they want the assembly to have these further powers.
"March 3 was the date requested by the first minister, and fulfils my commitment as Welsh Secretary to hold the referendum in the first quarter of next year."
First Minister Carwyn Jones said: "This takes us one step closer to achieving our One Wales commitment to hold a referendum for full law-making powers for the National Assembly for Wales."
Deputy First Minister Ieuan Wyn Jones said: "This is a highly significant formal step towards holding a referendum on further powers for the National Assembly.
"As the formalities of making the necessary arrangements are carried out, I and my fellow ministers look forward to taking a full part in the debate that lies ahead."
Welsh Liberal Democrat leader Kirsty Williams said: "The Liberal Democrats in government at Westminster are now delivering on our 100-year-old commitment to devolve real power from Westminster to the Welsh people."
The Electoral Commision said its chairwoman, Jenny Watson, will be the chief counting officer responsible for the conduct of the poll.
The chief executive of Pembrokeshire council, Bryn Parry-Jones, will act as deputy chief counting officer.
The commission is preparing information on the referendum which will go to every household in Wales, to help voters across the country understand the issues and be confident about casting their vote.