Union research on Merthyr's jobless figures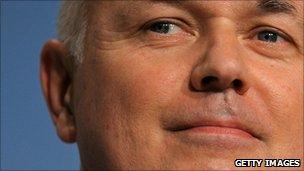 A Conservative minister is under fire after research raised questions about his claims Merthyr Tydfil is a "static" town.
Work and Pensions Secretary Iain Duncan Smith suggested last week the town's unemployed "get on a bus" to find work.
Now the Public and Commercial Services Union (PCS) says there are nine times more jobseekers than jobs in Cardiff.
Figures suggest 15,000 people in Cardiff chasing 1,700 jobs, while in Merthyr 1,670 are after 39 jobs.
Speaking on Thursday's BBC Two Newsnight programme, Mr Duncan Smith claimed people in Merthyr were unaware they could take a one-hour bus journey to Cardiff for work.
He said people who were out of work should make "reasonable efforts" to find employment, including being willing to travel.
"The truth is there are jobs. They may not be absolutely in the town you are living in. They may be in a neighbouring town," he said.
He said: "We need to recognise the jobs often don't come to you. Sometimes you need to go to the jobs."
His comments provoked fury among union officials who said they were "insulting" to the unemployed and evoked memories of Tory minister Lord Tebbit's "get on your bike" comments.
The PCS has published figures it obtained from the International Labour Organisation saying the number of people out of work in Merthyr and Blaenau Gwent combined was more than the total number of job vacancies for the whole of Wales.
The union also said the majority of vacancies in Cardiff were temporary and part-time, mainly unskilled labouring, and lasting for just one or three weeks.
Among the permanent jobs was work in a casino or bars. Neither offered help with journeys home afterwards and the last bus out of Cardiff leaves at 2306, said the union.
A union spokesman said: "Workers from outside the city might be able to get the bus to work, but they would not be able to get home.
"These figures prove it is not a question of people not being willing to work, there simply are not enough jobs for them to do - and there are unlikely to be any time soon because of the government's plans to cut public spending, including cutting 15,000 more jobs in the Department for Work and Pensions.
"Instead of vilifying the unemployed, the government should be creating jobs and opportunities to help people get back to work and to help our economy to grow."
After Friday's criticism of his comments, Mr Duncan Smith said: "The unions are showing themselves to be totally out of touch with reality with these pathetic remarks.
"They seem to be suggesting that anyone who commutes to work is somehow doing the wrong thing.
"I would suggest they apologise and recognise that ordinary, decent people want to improve their lives and do the right thing for their families and so value work and get on the bus."
Related Internet Links
The BBC is not responsible for the content of external sites.