Blaenau Gwent 'heart attack' payout is criticised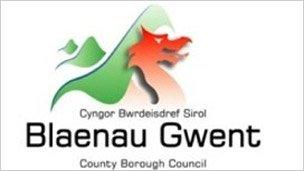 Urgent changes to the way Blaenau Gwent council handles redundancy cases are needed after an executive was given a six-figure payout, a review recommends.
The Wales Audit Office (WAO) carried out an inquiry after councillors awarded the cash after being wrongly told the worker had had a heart attack.
It found although the process was lawful, processes and actions were significantly flawed in some respects.
The council said it welcomed the finding the payout decision was lawful.
The review by the WAO strongly criticised the speed with which the payoff package was evaluated and presented to councillors.
According to the review, the councillors agreed to the settlement after they were told by their own council leader that its director of business development was in poor health and had suffered a heart attack in 2006.
It later emerged this was not the case.
Seven members of the ruling independent group said the council's chief executive had told them that the director had suffered a heart attack.
However, the Chief Executive Robin Morrison denied this to the investigators, while the council leader, Councillor Des Hillman, said he could not recall who had given him the information in the first place.
Several members said they had only agreed the financial package after being told about the executive's heart attack.
Councillors also said they believed the settlement had been passed through the authority's redundancy panel, when this was not the case.
The report found the decision to award the payoff was lawful, but the processes and actions that underpinned the decision were significantly flawed in some respects.
It recommended significant and urgent changes to the way redundancy cases are dealt with in the future.
A spokesman for Blaenau Gwent council said: "We welcome the determination of the WAO review that the decision taken by council was reasonable and lawful.
"We are pleased that this confirmed what we knew all along - that the decision was reasonable and lawful.
"The report will now be put before the meeting of full council on Monday 20th December for consideration by members.
"All members will also have a report setting our response to the auditor's report."
Related Internet Links
The BBC is not responsible for the content of external sites.