'BBC had concerns over part-funding S4C', says chairman
By David Cornock
BBC Wales parliamentary correspondent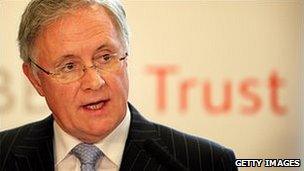 BBC Trust chairman Sir Michael Lyons told MPs the BBC had reservations about taking responsibility for part-funding S4C.
He said the S4C element was the part of the licence fee settlement BBC managers were "most wary" of.
Sir Michael said the BBC feared there might be a danger of "top-slicing" the licence fee and it would be thought the BBC had been behind the idea.
He made the comments before Westminster's Culture committee.
A senior Labour MP described the Welsh language channel as "a complete basket case" punted to the BBC as a hospital pass from the Culture Secretary, Jeremy Hunt.
Former minister David Cairns said he had visited BBC Wales, which he saw as confident and going from strength to strength.
"By contrast, to an outsider S4C appears to be a complete basket case with everybody resigning or being sacked, or industrial tribunals.
"Does this not strike you as another hospital pass from the Secretary of State, punting this basket case, particularly in light of how well BBC Wales is doing?"
Liberal Democrat MP Adrian Sanders told Sir Michael, and BBC director general Mark Thompson: "The amount of money you're going to be putting into S4C will be far in excess of the money you're putting into any other region of the United Kingdom. How do you justify that - if that's not a top-slicing of the licence fee?"
Sir Michael denied that the S4C deal meant the licence fee would be top-sliced, as he said the BBC would still have oversight over how the money is spent. S4C would have its creative independence protected.
"I do understand the mission that you're on to understand the settlement but it's very important the BBC doesn't leave you with the impression that we went looking to fund S4C. We didn't.
"It was part of an agreement, it was indeed a component of the initial negotiations that we were most wary of for two reasons.
"Firstly that there might be a danger of top-slicing and we think we've found a way around that but also we know that in Wales the issue of the independence of S4C is felt very strongly and the BBC did not want to leave any suggestion that it was somehow the pioneer of this proposition.
"When you enter into negotiations you sometimes end up accepting things which you might have chosen not to, that is part of the discussions."
Mark Thompson told the MPs that BBC Wales had a long tradition of Welsh language broadcasting. He said it had undergone a transformation under the leadership of director Menna Richards in terms of quality programmes.
"We have a very strong interest in a continued thriving Welsh language television channel available to licence-payers across Wales," he said.
Tory MP Philip Davies told the BBC bosses they were dancing on the head of a pin: "The reason why you were most wary of it is because you know that if it looks like top-slicing, and it sounds like top-slicing, it is top-slicing so why won't you just admit what everybody else in the room knows, everybody else in the country knows, that this is top-slicing?"
Sir Michael said: "The key issue is, is the money taken away from the BBC and given to someone else. No it isn't."