Carwyn Jones makes offer as Liberal Democrat defects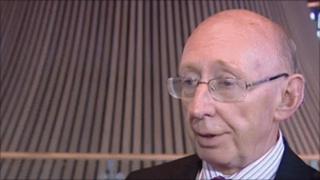 Welsh Labour leader Carwyn Jones has urged disaffected Liberal Democrats and activists to join his party.
He was speaking as he announced that veteran Neath Lib Dem councillor, John Warman, had opted to join Labour.
Mr Warman's decision marks a protest at what he called the party's "unforgivable" decision to vote for higher university tuition fees.
The Welsh Lib Dems said it was "sad" he was returning to a party that had "wreaked havoc in the Welsh economy".
Mr Jones said Labour was the only progressive alternative to the coalition.
Mr Warman was a Labour councillor from 1972 to the early 1980s, when he left the party to join the SDP.
He stood for parliament for the Liberal Democrats in 1992, and is a former leader of the party group on Neath council.
A spokesman for the Welsh Liberal Democrats said: "It's very sad that he has gone back to the Labour Party that has wreaked havoc in the Welsh economy.
"John Warman is returning to a party that has left families in his ward paying thousands for their mishandling of the economy, ran our health system into the ground and made a sham of our education system."
Mr Warman said: "This has not been an easy decision, but I feel as though the actions of the Tory-led coalition have left me with no choice.
"And I am under no illusion that this is a Tory government in all but name.
"The support I've had for the decision locally shows that many people feel as let down as I do."
He accused the Liberal Democrat leader Nick Clegg of "hypocrisy" over the pre-election pledge to end student fees and the subsequent vote in favour of increasing fees. He said the party had betrayed a generation of young people.
Carwyn Jones said: "I am delighted that John has taken this courageous step and I warmly welcome him to the Labour Party.
"He is a hugely experienced and well-respected politician and I know he will make a superb contribution to our party in the years ahead."