Welsh council chiefs hit out over merger amendment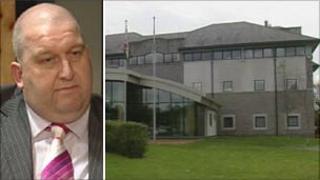 Council leaders have spoken out after ministers published proposals that would give them the power to merge Welsh local authorities.
It has added to speculation about the future of troubled Anglesey council.
The Welsh Local Government Association (WLGA) said the move raised questions about how legislation is scrutinised.
The assembly government said it was not a precursor to reorganising councils, but helped ministers to urge them to collaborate and cut costs.
Local Government Minister Carl Sargeant has ruled out wide scale mergers, but said it was his duty to "step up to the mark" in the case of failing authorities and to "do something about them".
The assembly government played down speculation that an announcement about the future of Anglesey council will be made in the near future.
In December, Gwynedd and Anglesey councils were told they must find ways of working together to save money.
The councils have said previously that there was a "willingness" to look at the possibilities. A full scoping study will be undertaken by February.
Amendments to the local government measure allow ministers to merge two or three councils if they are satisfied "effective local government is not likely to be achieved", even after intervention from the assembly government.
It means future assembly governments could not make a big reduction to Wales' 22 councils without further legislation.
'Eleventh hour'
WLGA leader John Davies said publishing amendments "at the eleventh minute of the eleventh hour does fundamentally call into question the effective scrutiny of such an important piece of legislation both within the assembly and by stakeholders".
He welcomed an assurance that the amendment does not pave the way towards a wholesale reorganisation of local government.
Mr Davies added: "While this provides reassurance, it does bring into question why this did not form part of the extensive 18-month policy debate and evidence gathering sessions on the measure that have been undertaken within the assembly on which the WLGA were asked to give evidence.
"Clearly this is not only a matter for the WLGA but for assembly members who from recent headlines have also expressed a significant measure of dissatisfaction in this process.
"It is concerning that legislation as fundamental as the future structure of authorities can be done without scrutiny and wider engagement or consultation."
He said local government had provided the assembly with "hugely radical proposals" about services such as education and social care.
"The constant emphasis on local government boundaries in this context is meaningless."
The Liberal Democrats say they are concerned about the amount of power being given to ministers and are planning to try to delay the amendment as much as possible.
Lib Dem local government spokeswoman Veronica German said: "The Labour-Plaid government wants the powers to allow a significant reorganisation of local government by ministerial decree with minimal consultation with the communities affected and next to no scrutiny and debate in the national assembly.
"Ministers seem to be indicating that it is only in relation to Anglesey that they will use these powers, in which case they should be honest about what they see as the issue in Anglesey and bring forward specific proposals to address them."
'Another tool'
An assembly government spokeswoman said: "One amendment is significant in that it creates the power for ministers to make an order amalgamating up to three local authorities.
"In the current financial climate local authorities need to work together and collaborate much more closely with their neighbours.
"In the last year it has become clear that some local authorities are more willing to do this than others. To save money and protect frontline services, we need the tools to make this happen.
"The local government measure provides us with a timely opportunity to secure powers which, it has become obvious, are necessary."
She said it was "certainly not" a precursor to reorganising local councils, but gave ministers "another tool in our box" to support and encourage authorities to collaborate and cut costs.
"Speculation that this is aimed at any particular local authorities in Wales is wide of the mark," she said.
AMs will have an opportunity to scrutinise the measure in detail during a forthcoming committee stage, she added.