Welsh ministers accuse Treasury of buck passing on fuel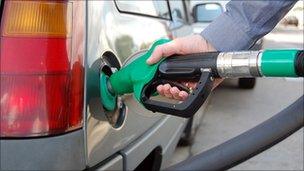 A row has flared over fuel prices after a UK minister suggested the Welsh Assembly Government could use its money to support motorists.
It came after a Plaid Cymru and SNP call to tackle the cost of fuel was defeated in the Commons.
Treasury minister Justine Greening said the Welsh decision to cut university fees showed scope for ministers in Cardiff to alleviate fuel costs.
The assembly government said that was "buck passing" on a non-devolved issue.
Plaid and the SNP want UK ministers to introduce a scheme called "fuel duty derogation", meaning fuel duty paid in the countryside could be lower than in higher population areas.
They made their call during a Commons debate, but their motion was defeated by 303 to 14 votes.
The two parties said the Westminster coalition needed to push ahead with considering a regulator to cut fuel duty when oil prices rise.
Prime Minister David Cameron is looking at sharing the risk of higher fuel prices between government and drivers.
Economic Secretary Ms Greening said the government fully accepted that high fuel prices were a problem for many.
She said ministers were talking to the European Commission and were committed to introducing a pilot scheme that would deliver a discount of up to 5p a litre in duty in remote rural areas.
She suggested the Welsh and Scottish administrations consider alleviating the high costs of fuel from their own budget "to fund their own form of grant scheme to support motorists in their areas".
"They've taken decisions around tuition fees that are different to those faced by those of us living in England.
"And I think what it shows is that, actually there is some additional scope - that perhaps wasn't there in the past - for devolved administrations to look at this as a priority for them in terms of their spending, as well as for national government."
Ms Greening said the Chancellor would update MPs on the latest developments during the budget next month.
With fuel costs at a record high, the UK government is facing calls to scrap a planned duty increase in April.
A spokesperson for Rural Affairs Minister Elin Jones said: "It is remarkable how Tory and Lib Dem ministers in Westminster keep attempting to pass the buck and get the Welsh government to pick up the tab for issues that are not devolved.
"All the while, they are slashing the Welsh budget.
"We would urge the UK government to listen to those who are struggling to cope with rising fuel costs and those trying to find a sustainable solution to the problem."